Twitch recently clarified that they now not only prohibit streaming CS:GO skin gambling but also the promotion of these sites. This will have huge consequences for plenty of big streamers, who are in well-paid partnerships with CS gambling sites.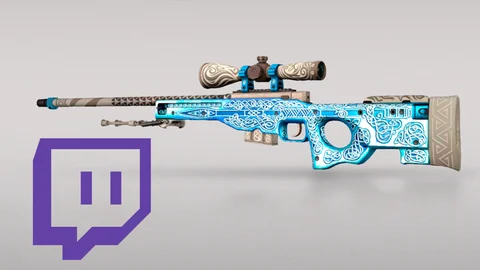 Ever since the
Arms Deal Update
was released in August 2013, skins have been a crucial part of Counter Strike: Global Offensive. Skins give players the chance for individualization, and they give CS:GO's publisher Valve a mountain of cash. But ever since their release, CS:GO skins have been controversial.
Why controversial? Because skins can be unlocked from cases (basically Loot boxes) and sold for real-world cash. Those skins can also be traded to other accounts, which opens the door for third-party sites, and for gambling. Hence, soon after the Arms Deal update was released, the first gambling websites opened up and gained huge popularity. Most of them without a legal gambling license.

Twitch Explicitly Bans Promotion Of GS:GO Gambling Sites
Twitch, the most popular streaming site on the planet, made a small but very significant change to their community guidelines. After another big debate about skin gambling sites started by a 47-minute-long video from popular french YouTuber "HOUNGOUNGAGNE", Twitch added the following question and response in their "Prohibited Gambling Content FAQ":
Is sponsorship of skins gambling, such as for CSGO skins, allowed on Twitch?
No, promotion or sponsorship of skins gambling is prohibited under our policy

This means that from now on, Twitch is banning not just CS:GO gambling, but also the promotion of websites that do the same. In his video, HOUNGOUNGAGNE found out that approximately 75% of the biggest 300 CS:GO streamers are linked with at least one site that is now prohibited on Twitch.
If the streaming platform enforces its rules properly, plenty of streamers might be in serious trouble. If they don't remove the banners, overlays and chatbot messages, Twitch could ban them from their platform.

Twitch certainly wants to fight the gambling on their platform. After prohibiting streamers from using gambling websites in October last year, Twitch now explicitly bans streamers who promote certain sites. Valve, Counter Strike's Publisher, has a clear stance on the matter too, banning high-volume accounts that are linked to gambling sites on a regular basis.
With Twitch's new guideline, gambling content should be getting much more rare, which is a good thing. Lowering the visibility of gambling sites will automatically decrease the number of people that will visit those sites and lose their money. Keep up the good work, Twitch.
This article contains affiliate links which are marked with [shopping symbol]. These links can provide a small commission for us under certain conditions. This never affects the products price for you.