New Deathloop update brings new accessibility options, photo mode and more.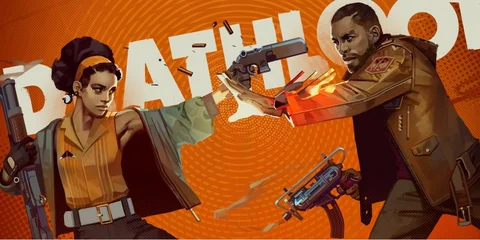 The third major update for Deathloop is now available on PlayStation 5. Game Update 3 brings the brand new Photo Mode, additional accessibility options, unique PlayStation 5 avatars, and more - all for free.]
New Photo Mode in Deathloop
Get creative with a wide range of filters, stickers, poses and other customization options in Deathloop's brand new Photo Mode. Available exclusively in single-player mode, Photo Mode is accessed via the pause menu on any map or via the Photo Mode shortcut.

"One of our biggest challenges was adapting the photo mode to a first-person shooter where you can't see the character except for hands and weapons. We wanted to provide the best possible experience for this mode and took the time to test it thoroughly in-game, even asking for advice from players who are experts in using different photo modes in games. We enjoyed testing the photo mode so much that we added a lot of relevant options to make it more enjoyable and fun for players to use." the developers explained

Accessibility Features in Deathloop
Game Update 3 brings more than 30 improvements and additional accessibility options, from menu navigation improvements to interface options and numerous new gameplay options.
The update also implements a dedicated accessibility category that can be accessed from the options menu. This new menu summarizes the existing options as well as many of the new options in this update, including:
New gameplay settings that allow players to further customize combat in single-player mode (most are not available for online and friends modes). These include increasing and decreasing the difficulty level for battles, adjusting the recap count, and reducing the game speed.

New HUD and subtitle options to adjust the size, opacity, and color of various text and graphic elements.
Easier menu navigation; now you can use the controller's directional keys to move up and down through menu lists. Also, the cursor speed can be adjusted in the settings to make it easier to navigate through settings with a controller.

Free Deathloop Avatars for PS5
Show your love for your favorite character from Deathloop with these free PlayStation 5 avatars representing the game's colorful cast, from our hero Colt to the eccentric and chaotic Visionaries. This collection of 9 avatars is available for free to all PS5 users. Below you can find the redemption instructions and the codes for each region.

SIEA (North America, South America): 7673-6HNN-K887

SIEE (Europe, Africa, Middle East, Oceania): 3XF7-QANX-CJ6A

SIEJ (Japan): QQH5-75NA-3TBP

SIE Asia (Asia): KB3H-FQNJ-5BCT
Check out the new avatars: