A few years ago, the company behind Magic: The Gathering and Dungeons & Dragons, Wizard's of the Coast, began developing multiple video game adaptions for these two powerhouse franchises. But they've now cancelled five of those games and are scaling back their investments in the video game industry across the board.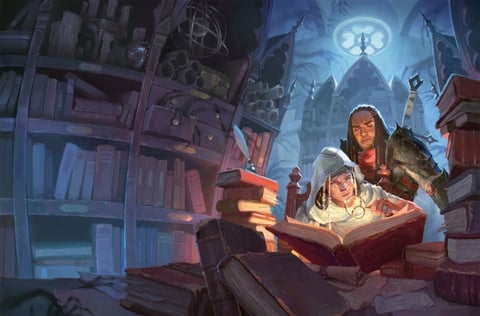 Both Magic and DnD have been going from strength to strength in the last decade, and increasing pressure has been placed on both franchises to produce video game adaptions. But to the annoyance of investors, these hobbies seem resistant to digitization, which makes it much harder to nickle and dime players. You can't make record sales from microtransactions when your playerbase are still using pen and paper like it's 1974. Still, whether it hurts greedy profiteers or not, it's a sad day for the video game industry to see so many projects cancelled in one fell swoop.
Five Video Games Cancelled By WotC
Wizard's of the Coast, the company behind Magic and DnD, have cancelled five video games that were being developed for their two powerhouse franchises. The cancelled games had not yet been announced, but who knows, maybe we were finally going to get the open-world Faerûn RPG we had all been hoping for. No longer.
The news was first broken by Bloomberg's Jason Schreier, who was told by representatives of WotC that the change was made "to focus on games which are strategically aligned with developing our existing brands".
Baldur's Gate 3 should really have been on this list, but there are just so many huge games coming in 2023...


So far we're aware of five games that have been cancelled and 15 employees who have been made redundant. WotC are trying to do right by these employees by allowing them to apply for other positions within the company, but it's all the independent studios who were hired to make the games that will really suffer.
Hasbro, who own Wizard's of the Coast, saw a 40% decline in sales in 2022, and so it makes sense that they would reduce research and development expenditure first. Especially so in the case of Magic and DnD, which both had poor track records with video game adaptions in recent years. Of course, DnD enjoyed a golden age of video game adaptions in the early-2000s, and MTG Arena had a very successful launch in 2018, but since then most DnD games have been a huge disappointment, like Dark Alliance, and MTG Arena has declined and lost support.

We can at least end with some positive news for you, however. Baldur's Gate 3 will be unaffected, and is still planned for full release later this year. You can play it right now via early access, in fact, but you only get access to about 20-30% of the game.
Are you disappointed by the news? Or were you always going to keep these hobbies off-screen anyway? Oh, and if you've been on the fence about starting either of them, we recommend the Essential Kit for DnD beginners, and a Duel Deck for anyone wants to start playing Magic. Enjoy!


This article contains affiliate links which are marked with [shopping symbol]. These links can provide a small commission for us under certain conditions. This never affects the products price for you.