Magic: The Gathering will add cards and sets based on Fortnite. We have all the info you need to know about the Fortnite Secret Lair Drops right here.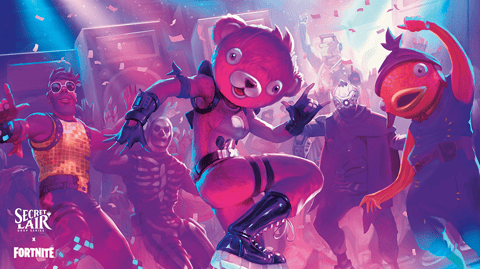 For nearly 30 years, Magic The Gathering has been one of the most popular card games in the world. To keep fans engaged, the tabletop TCG has changed a lot. Among other things, there are offers of so-called Secret Lair Drops; limited card sets that you can only order from Wizards of the Coast, and which usually have a specific theme.
And who would have thought (you read it in the title, after all): the next set of Secret Lair maps is an ultimate crossover with Fortnite.
Fortnite x Magic: The Gathering Secret Lair Card Details
Wizards of the Coast has already released most of the Secret Lair maps from the upcoming Fortnite crossover. These are reprints of Magic: The Gathering cards with new graphics that highlight the popular Battle Royale game.
The crossover is split into two drops. One drop contains five full-size basic lands called Secret Lair Fortnite: Landmarks and Locations. The other edition features new Fortnite artwork on existing MTG cards.
Each of the MTG cards used in Fortnite Secret Lair crossovers have been reprinted in the past, some more than others. So it's not like they're actually rare to get, with the crossover tailored to Fortnite fans and hardcore collectors.
Each Fortnite Secret Lair Drop also contains a secret card, which has not yet been revealed, plus, both drops are offered in foiled and non-foiled versions.
Here are the cards apart of the Magic The Gathering x Fortnite collab!

They're set to release July 21st @ 12:00 PM Eastern Time in limited stock

Thanks @Justin_Neagle for the images pic.twitter.com/o8TzZ26z0u

— iFireMonkey (@iFireMonkey) July 7, 2022
Fortnite x Magic: The Gathering Secret Lair Card Prices
Here is an overview of the drops, their description and their prices:
| | | | |
| --- | --- | --- | --- |
| Drop | Price (non-foiled) | Price (Foiled | Description |
| Fortnite | 29.99 $ | 39.99 $ | Skinned cards with Fortnite-themed alternate artwork, flavor text, and an additional card name. |
| Fortnite: Landmarks and Locations | 29.99 $ | 39.99 $ | Five basic artworks depicting locations from Fortnite |
Fortnite x Magic: The Gathering Secret Lair Cards Release
Fans of the MTG Universes Beyond Secret Lair Drops and Fortnite will be able to pre-order one or both drops from the official Secret Lair site starting July 21. The "Secret Lair Fortnite" and "Secret Lair Fortnite: Landmarks and Locations" drops are only available for a limited time, so act fast if you're interested in them.
For more on Fortnite: