The Elden Ring DLC has finally been announced, and we will know what that means: the legend "Let Me Solo Her" will be back. The iconic player is preparing his comeback.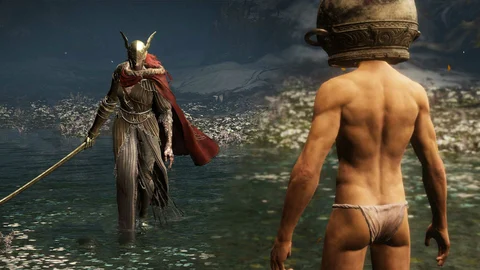 One of my favorite stories from last year was the one of "Let Me Solo Her", the Elden Ring player who helped frustrated Tarnished by offering to be summoned and beating Malenia, the hardest boss in the game, all on his own. All why being naked, bar a jar on his head.
Having cemented legend status during the original release of Elden Ring, the iconic hero is now preparing a comeback for Shadow of the Erdtree, the upcoming Elden Ring DLC. We're excited to see the return of the king.
Elden Ring DLC: Let Me Solo Her Is Ready For Any Challenge
Speaking to Gamesradar, the legend of the game talked about what he has been up to since his initial rise to stardom and what he expects from the DLC. Somehow, the madman is actually still playing Elden Ring, exploring the Lands Between and switching between different characters and builds. He claims to be "almost at 1,000 hours" which is definitely a respectable number.
After killing Malenia at least 4,000 times, by his own estimation, he is ready for something new though, as are all Elden Ring fans. So just like the rest of us, Let Me Solo Her is excited for whatever challenge the DLC will have in store for him.
Broke your controller trying to beat Malenia? Click here to get a brand-new one!
The Soulsborne games always had ridiculously tough bosses in their DLC add-ons, so Shadow of the Erdtree probably won't make an exception to that. Maybe it will even be Malenia's brother Miquella, who is most likely the key figure in Shadow of the Erdtree.
Whoever it will be, Let Me Solo Her will "take the mantle again" and be there, conquering the hardest challenge in Shadow of the Erdtree.
"Everyone knows a Soulsborne DLC has the hardest boss, so yes, I'm hoping for a good challenge that's harder than Malenia. I fought Malenia because I liked her design and moveset. If I like the DLC's final boss, I will probably take the mantle again."
It's good to see that the legend is still in the game and still ready to kick some ass. Í'll definitely be there as well, probably summoning the king myself.
This article contains affiliate links which are marked with [shopping symbol]. These links can provide a small commission for us under certain conditions. This never affects the products price for you.