Internet sleuths have geolocated the locations of Zelda and Ganondorf in the latest Tears of the Kingdom trailer, potentially revealing huge story details.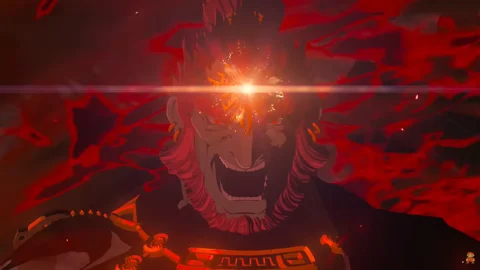 After the amazing Tears of the Kingdom trailer came out recently, the internet immediately went to work and dissected every single frame of the trailer. One of the craziest finds was made by one person on Twitter, who geolocated Zelda's location within the game map as being at the Temple of Time, on the Great Plateau.
Gannondorf's Location in Tears of the Kingdom Revealed
Now, the same Zelda fan thinks they've managed to pinpoint Ganondorf's exact location in Hyrule, and according to this theory he's exactly above the Shrine of Resurrection, again on the Great Plateau.
Alright, by using the same background-overlapping technique we've pinpointed Ganondorf's location: he seems to be on a new structure on the Great Plateau, directly above the Shrine of Resurrection! #TearsOfTheKingdom pic.twitter.com/lo3lOPpsQT

— Luigi (@looygi) April 18, 2023
This could point towards really interesting story twists regarding Ganondorf in Tears of the Kingdom. Will the big daddy… sorry, the big bad, use the Shrine of Resurrection to return to his full strength. In the first teasers, we saw Ganondorf as a shrivled mummy, now he's a full-blown daddy. Did this happen in this shrine? How did he get there? Will we once again start the game on the Great Plateau or could this even be the climactic location in Tears of the Kingdom?

If you haven't pre-ordered Tears of the Kingdom yet, you can do so now on Amazon!

So many questions, such few answers. Tears of the Kingdom has us going all crazy with theories, and we can't wait to finally play the game on May 12. Until then, why don't you check out our other theory and news pieces on TotK? Check them out below.
This article contains affiliate links which are marked with [shopping symbol]. These links can provide a small commission for us under certain conditions. This never affects the products price for you.