The livestream for Genshin Impact version 3.6 is just around the corner. We'll tell you everything you need to know about the exact date and times, when and where you can watch live, and get some free primogems.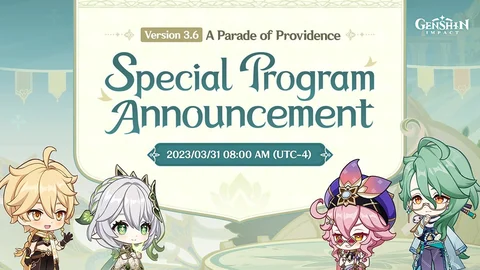 Soon we will get a glimpse of the upcoming Genshin Impact version 3.6. The next livestream will take place soon, and we will receive free primogems again. Here you can find everything you need to know about the v 3.6 livestream including when and where you can watch it live.
Genshin Impact V 3.6 Livestream Schedule
The next Genshin Impact livestream will take place on March 31, about two weeks before the new version update launches. You will be able to watch it on the Genshin Impact YouTube channel as well as the official Twitch channel.
Depending on your location and time zone, these are the times to tune in to the livestream:
12 pm GMT
8 am EST
5 am PST
In every special program livestream for Genshin Impact's new version, we get a couple of promo codes for free primogems! As soon as they're public, you'll be able to find them all in our Genshin Impact codes article, where we regularly publish all active codes for Genshin. Make sure to check it out!
What To Expect
We can't wait to get more information on the two newest characters, Baizhu and Kaveh, especially regarding their in-game kits. There has also been a lot of speculation about the re-run 5-star characters this time around.
Some notable leakers have hinted that Nahida and Ganyu might return in version 3.6, but we'll probably know more after watching the livestream.
#GenshinImpact 3.6 rerun leaks: Upcoming character banners pic.twitter.com/1lkW7YVxqR

— Batursi || (@batursi1) March 11, 2023