When announcing new characters in Honkai Star Rail, HoYoverse tends to it much more settle and mysterious than in games like Genshin Impact. If you pay close attention to trailers, books and the in game dialogue, you will stumble across the name Sam once in a while, but who is Sam?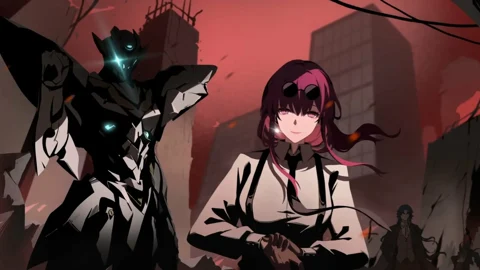 After we took a closer look at Elio in our last Honkai Star Rail lore article, it is just more than obvious who should be the next one, who deserves a bit more attention and appreciation: Sam.
Check out all the information about Elio right here:
Until recently, there was hardly any information about Sam, however, but this changed after HoYoverse released one of their latest trailers. And to say the least, Sam does look a tiny bit different from what I imagined…
Honkai Star Rail Lore: Who Is Sam?
Despite being a rather unknown character, what we do know is that there is a fourth member of the Stellaron Hunters next to Kafka, Blade & Silver Wolf. Of course, there is Elio, however, we learned that he is the founder and holds a much more special position within the organization.
If you are interested in a new cosplay idea, how about Kafka? I got the perfect sword for you right here already!
Since Kafka, as well as Blade and Silver Wolf, mention the name "Sam" quite a lot, it is safe to say, that he is the hidden fourth member of said organization. Only through one of the most recent trailers of Honkai Star Rail, we could finally find out more details about the. so far very mysterious, character named Sam, who can now no longer hide away in the shadows.
Check out the "Jepella Rebellion" trailer right now:
HoYoverse really knows how to make the most stunning trailers, don't they?
The most interesting piece of information about Sam is that he was the very first Stellaron Hunter and joined the organization much earlier than Kafka, for example. That might indicate how close he is to Elio, since they seem to have known each other for quite some time now!
"You should really stop playing with your food, Kafka." – Sam
In fact, Sam was the one who decided to recruit Kafka as a Hunter. After that, both of them together made a decision, on who would be other suitable members.
They chose Silver Wolf because of her sheer endless intelligence and Blade because of his strength. Convincing Silver Wolf seemed to be the much easier task, since Blade did put up somewhat of a fight, until Kafka could finally brought him down, by using her Spirit Whisper on him.
Sam's Appearance
Sam has a large build and is adorned from head to toe in metal plating. While Blade thought he was a human in a suit of armor upon their first meeting, Silver Wolf instead describes him as a "metal humanoid," implying he may be a robot.
A real robot character? Sounds a bit like Screwllum! However, he does look super cool and like a pretty strong fighter as well. But who knows, maybe there is a soft core somewhere between these metal plates …
If you are into the Star Rail lore or want to learn more about said universe, stay tuned since there is a lot more to explore. Check in from time to time in order to not miss any spicy details and leaks!
This article contains affiliate links which are marked with [shopping symbol]. These links can provide a small commission for us under certain conditions. This never affects the products price for you.