Jedi Survivor's PC version is a disaster. But, some honorable Jedi have found a potential way to fix the performance issues.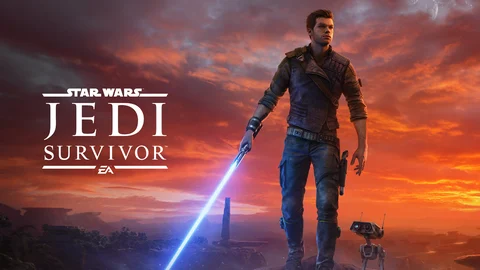 Unfortunately, Jedi Survivor is straight-up broken on PC. The game doesn't run well for anyone and experts are calling this one of the worst PC ports ever.

But, it's not all doom and gloom. People have found ways to improve the game's performance on PC, which is a much-needed bit of help. We'll show you how to do it.
Jedi Survivor: How To Improve PC Performance With DLSS Mod & More
You really don't have to be a computer science graduate to improve the performance of some games. With these two simple ways, your lightsaber will shine more smoothly.
Jedi Survivor: FPS Boost – Method 1
This fix comes courtesy of Reddit, where users first released this unofficial fix. We've tried this method as well, and can confirm that it helps with the performance (but it won't completely fix all issues). Here's what you need to do:
Enable ReBAR

Go to the Nvidia Control Panel and click on "System Information" to check if ReBAR is enabled or not
Go to GameUserSettings.ini for Jedi Survivor and change the following settings

Set antialiasing to 0
Set resolution quality to 100%
Change any screen height/width variables to the resolution of your display
Change any fullscreen variables to 1
Set desired screen height to True
Change these settings for Jedi Survivor in Nvidia Control Panel

Set Antialiasing settings to override, 8x and super sampling
If you have weaker hardware, turn down these settings
Try out FSR on Quality in the Jedi Survivor settings menu. If you don't like the look of it, turn it off. Definitely turn off Ray Tracing.
And that's it! Like we said, it worked for us and we hope it will work for you too!
Psst, sorry for the interruption, but have you seen the cute BD-1 figure as LEGO? Check it out on Amazon!
Jedi Survivor: FPS Boost – Method 2
Another method is to install mods for the game to increase its performance and fix stuttering errors. The 16-year old modder Glumboi has published on NexusMods a great modification that will help you solve a couple of performance problems in your stellar adventure.
All you need to do is:
Download the mod from the NexusMods website.
Enter the SWJSV installation directory and place one of the packages in the folder called "Jedi Survivor"
Run the game
Enjoy a great boost!
This modification is still compatible with the latest Jedi Survivor patch. The results of FPS increase and improvements you can achieve are, obviously, depending on your PC.
Jedi Survivor: FPS Boost – Method 3 Via DLSS Mod
With help also comes modder PureDark, known for implementing NVIDIA technology in many titles that did not originally support it, like Jedi Survivor. In the game, we only have AMD FidelityFX Super Resolution 2 avialable, but this technology significantly degrades the quality of graphics.
While you're waiting for the game to be fixed, think about getting the cute LEGO BD-1 on Amazon love to sit next to you on your desk
As you can see from the presented video, the game runs at only about 45 FPS normally. After activating the DLSS 3 mod, PureDark can enjoy smoother gameplay with almost 50 FPS more. Now you can too! As the author has made the mod available for download in alpha version. Below you will find instruction on how to download the DLSS mod for Jedi Survivor:
First, you need to support the creator with $5 (for such an improvement, this is a really fair price).
After donating, link your Discord profile to your Patreon account (after that you will get access to the channel from which you can download the mod).
In the game settings, select epic graphics quality (PureDark also recommends disabling motion blur, as with DLSS FG enabled, the game doesn't look best).
Extract the downloaded .zip file's contents to JediSurvivor\SwGame\Binaries\Win64.
And that's it! (you'll see the modification menu by pressing the Home key, and if the game would stutter, try disabling and enabling the "DLSS Frame Generation" option).

As we mentioned, this is an alpha version for now, which may also still contain some bugs.
Remember that we as well as the modders are not responsible for damaged save files! So make sure you always create a backup!
Stay tuned for updates and may the performance be with you!
This article contains affiliate links which are marked with [shopping symbol]. These links can provide a small commission for us under certain conditions. This never affects the products price for you.