With Sector 1: Dreadshore, Meet Your Maker is getting a first major content drop soon after its launch in April. Here's everything you need to know about Dreadshore, including the release window and what content we can expect.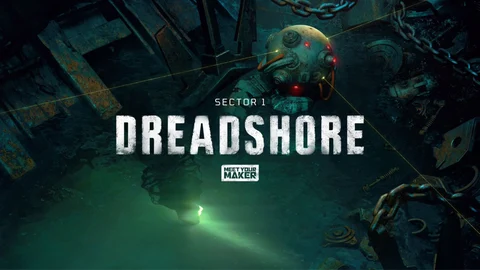 Meet Your Maker is not even out yet, but we already know what players can expect after its release on April 4. Behaviour Interactive has revealed Sector 1: Dreadshore, the first "major content update" for their latest multiplayer title. Dreadshore will bring new content to the game, but what exactly will be in there, and when can we expect the release? We will show you everything you need to know.
Meet Your Maker Sector 1: Dreadshore – What Content We're Getting
This first content drop promises quite a lot of cool new stuff. The most important addition is probably a new "Environment". So far, Meet Your Maker is only set in a desolate desert, but Dreadshore is set to change that with a new biome. What that will be is not clear yet, but we're excited to see that.
If you thought the world of Meet Your Maker was confined to the deserts of the Red Sands, think again. The environment introduces a new region of Meet Your Maker postapocalyptic world where players will be able to build using a new Sector-themed set of building blocks designed to create a completely different style of Outpost.

In order to build even cooler outposts, Dreadshore will also offer a new Deco Pack upon release. These offer new cosmetic items like two new blocks, eight decals and more.

These things will be instantly available for free when Dreadshore comes out. What you'll also be able to get are a new Cosmetic Collection (featuring a Deco Pack, a Custodian Skin, and a new Weapon Skin) and new Gameplay elements, which you will be able to unlock in-game or purchase in your platform's store.
Custodian & Perks
Weapon & Upgrades
Trap & Mods
Guard & Augments
If you need to upgrade your PC, Amazon has some great offers for you!
Dreadshore Release Window
Dreadshore is set to release in late June 2023. Unfortunately, we didn't get a concrete release date, but it's still nice that we'll get some new content just two months after release. If you can't wait until then, no worries: Behaviour are offering more content before that.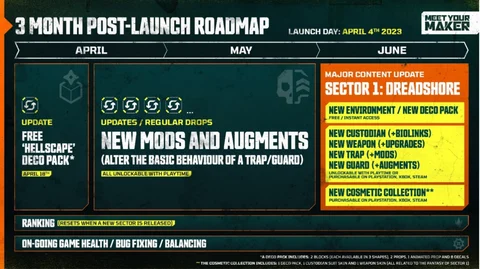 On April 18, two weeks after release, players will get the free "Hellscape" Deco Pack. Over multiple smaller releases, we'll also get new mods and augments in the game. These are some of the most fun parts of building an outpost, so it's good to see we'll get more.
And that's all, folks. Some pretty neat stuff. Let's hope it will help to keep Meet Your Maker feel fresh even months after the release.
This article contains affiliate links which are marked with [shopping symbol]. These links can provide a small commission for us under certain conditions. This never affects the products price for you.