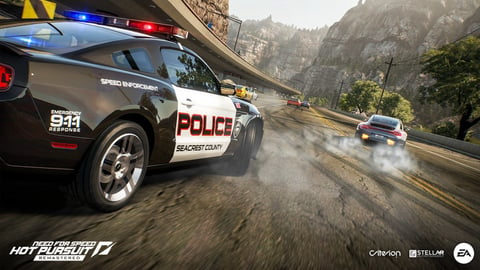 Among fans of the series, Hot Pursuit from 2010 is perhaps the last really good sequel in the time-honored Need for Speed series. It now returns remastered for PC, PS4, Xbox One, and Nintendo Switch. But is it worth the purchase? Our Need for Speed: Hot Pursuit Remastered review will tell you just that.
One of the best arcade racers of the last ten years returns to the screen. That's a good thing, right? But is the purchase of Need for Speed: Hot Pursuit Remastered worthwhile, we will tell you in our playthrough of it.
Cops Against Racers Reloaded
After the underground and shift sequels, the legendary Need for Speed series returns to its beginnings with Hot Pursuit, once again taking up the "cops versus racers" mantle.
Instead of prefabricated slopes, we are allowed to let off some steam in the fictitious Seacrest County. The idea works, the feeling of the game is timeless, but does this remain true even today? In fact, the law enforcement officers' battle against the illegal racers has lost nothing of its fascination.
Need for Speed: Hot Pursuit Remastered with its simple and varied gameplay is just as much fun as ever. Going fast, varied tasks, and cool police gadgets provide a lot of fun.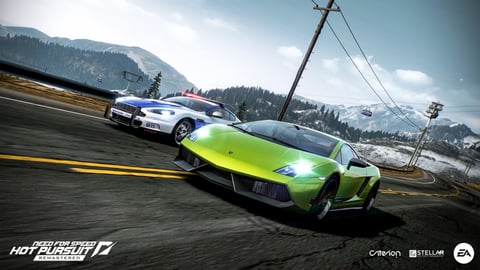 Elsewhere, however, the arcade racer has not aged as well. The AI is still as annoying as we remember it. This may always make for exciting races, but since the other riders are always breathing down our necks, the racer also makes it impossible for us to get a lead.

Even the game's unique Autolog feature, which at the time combined the career mode with the online community, is no longer an innovation. After all, in Need for Speed: Hot Pursuit Remastered, it works cross-platform.
The biggest change in Remastered is its technology. Hot Pursuit glows on the big consoles (PS4 Pro and Xbox One X) now in Full HD and with smooth 60 frames per second across the screen. Alternatively, we opt for a higher resolution, but then have to make do with 30 FPS.
On Nintendo Switch and the standard models of PS4 and Xbox One there is only 1080p with 30 FPS - there would have been much more a long time ago. Especially since the title from a technical point of view cannot even begin to keep up with the current genre's best like DIRT 5.
After all, every DLC is already included in the €40 package. The remaining new features include a photo mode and a few additional options for customizing the cars - but these are not worth mentioning.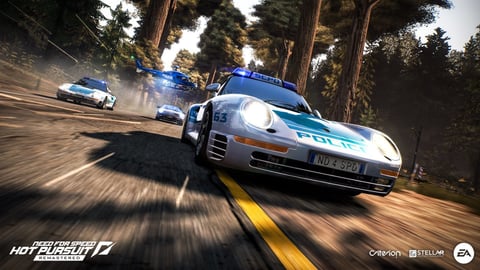 Our Verdict on Need for Speed: Hot Pursuit Remastered
Need for Speed: Hot Pursuit Remastered is a really fun arcade racer that keeps us glued to the screen for a few fast races. The duel between law enforcement officers and racers has lost none of its fascination.
As good as the game in principle still works today: the game does not offer any real reasons for a new purchase. From a technical point, the new edition does not go far enough, and actual new content is lacking.
If you have already tried all other modern arcade racing games or want to indulge in comforting nostalgia, you will have a lot of fun with Need for Speed: Hot Pursuit Remastered. But all others are better served by the wide range of competitors nowadays.
Read more about gaming and esports on EarlyGame. We introduce you to the Pacer Review: A Combat Racer for WipEout Fans and tell you why you shouldn't miss WRC 9 Review: The Surprise Racing Game of the Year
Original article by EarlyGame's Philipp Briel.