In celebration of Valentine's Day, Blizzard released the Overwatch 2 dating sim Loverwatch. By giving the right answers, players can unlock a secret ending and earn unique rewards as well as an iconic highlight intro for Hanzo.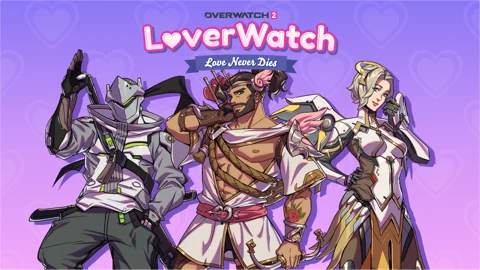 Did you know that you can date Overwatch 2 heroes? The new Loverwatch dating sim makes it possible. To satisfy their fans' special needs, Blizzard has now released a dating simulator, which allows fans to date Genji and Mercy. And don't come around saying you only play it for the rewards. We both know that's not entirely true. Just don't let anyone see your search history...
It doesn't really matter why you're playing it. Either way, there are rewards to collect. Here is how to pick up everything, including the secret ending in which Hanzo confesses his feelings to you.
Overwatch 2: Crossplay and Cross-Progression – What You Need To Know
Overwatch 2 Loverwatch Secret Ending And All Rewards
Blizzard has just launched Loverwatch and fans now have the chance to date Genji and Mercy in a corny but sweet dating simulator. When dating Genji and Mercy, you can either end up with an ending where they put you in the friend zone, or if you manage to persuade Genji or Mercy, reach the romantic ending which is rewarded with some nice collectibles. There is also a secret ending where Hanzo realizes that he and you are indeed meant for each other.
You will have until February 28 to unlock all endings and get the rewards.
But before you go off to seduce Genji and Mercy, make sure you have your Battle.Net account signed in on the Loverwatch website to transfer the rewards to your Overwatch profile.
Here are all rewards available in the Loverwatch dating sim:
Genji's Peace: Player Icon, Title
Mercy's Angel: Player Icon, Title
Cupid's Arrow: Player Icon, Title, Highlight Intro
Valentine Cards: One to Sixteen
Card Fronts: One to Fourteen
By the way, playing Overwatch 2 is a way better vibe with the right equipment! Check out this, and you'll find everything you need for the perfect gaming setup.
Currently Active And Upcoming Twitch Drops In Overwatch 2 – How To Claim Legendary Skins For Free

How To Unlock The Secret Ending
If you want to claim all the rewards available, you need to be on your best behavior. In order to get "Genji's Peace" as well as "Mercy's Angel", you need to achieve the romantic ending with them. If you manage to win them both and then play the game again, you unlock a secret ending where Hanzo, aka Cupid, becomes a playable route and you realize that the two of you were meant for each other from the start, so you confess your feelings to him.
By completing this confusing love triangle (or square?), you'll be rewarded with Cupid's Arrow and Hanzo's iconic new POTG Highlight Intro.
Overwatch 2 Fans Feel Tricked By New Battle Pass
Redeem Rewards
First make sure that you are logged in with your Battle.net account. Then you can go to the main menu of the Loverwatch website, go to "Rewards" and then click on the "redeem" button. Now everything should be transferred to your player profile in Overwatch 2 within 48 hours.
This article contains affiliate links which are marked with [shopping symbol]. These links can provide a small commission for us under certain conditions. This never affects the products price for you.