The upcoming Pachi-Marchi event in Overwatch 2 is going to launch a full community event, that is open to anyone. Sign up and get your team to the top on this 2-day single-elimination tournament featuring a $20,000 prize pool.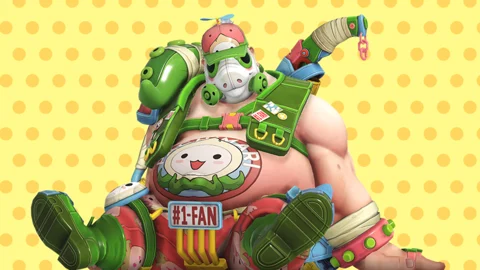 The Pach-Marchi event is coming back to Overwatch 2, and this time it will also feature a community tournament. Anyone can participate, and it has a $20,000 prize pool, what's not to love?
It's obvious, that Blizzard is really trying to get more in touch with their community. Especially when it comes to tournaments and esports, Overwatch has been quite closed up for a long time. The Overwatch League teams always had a permanent contract with the league and are safe to be a part of each year.
But now that Blizzard brought the World Cup back, they're also launching a community-based tournament, that is open to anyone no matter the rank and skill.
Overwatch 2 Pachi-Marchi Clash Start Date & End Date
The Overwatch 2 Pach-Marchi Clash tournament is something, we've never had before. In this free for all competition, Overwatch fans can sign up with their team and compete against others to win $10,000.
The tournament is split up into two days and will take place on Tuesday, March 21 at 4:00 PM PDT and on Wednesday, March 22 at 5:00 PM PDT.
What To Expect
In this tournament, a maximum of 128 teams with five players each will compete in a single elimination bracket. That means if you lose once, you'll be eliminated from the tournament. The matches work similarly to the normal competitive mode, the first team to dominate two maps wins the match. This only changes, once we get to the grand finals, where the first 3 matches get to first place.

To make things a bit more exciting and serious, Blizzard is going to broadcast the semi-final and final matches on their official "PlayOverwatch" Channel on Twitch.
The Tournament has a total prize fund of $20,000, which is quite a lot if we're considering that this tournament offers anyone, who likes to play Overwatch the opportunity to prove themselves. You don't need any fancy skills or minimum playtime in the game. Even noobs like you and me can sign up.

One thing, that you should consider doing before signing up to a gaming competition like this one: Make sure you are well-equipped. Getting a headset, mouse, or keyboard that fits your playstyle can make a huge difference in your performance. Check this out, to find some things to improve your PC setup.

How To Sign Up
You and your friends have the chance to sign up for this tournament via "GameBattles" until March 19. But there are some requirements that you must reach, in order to participate:
You must have a Battle.Net account that is not silenced or suspended
You must own and play Overwatch on PC
Your team can't have more than two players that are competing in the current Overwatch Contenders season
Your team can't have any signed Overwatch League players
This article contains affiliate links which are marked with [shopping symbol]. These links can provide a small commission for us under certain conditions. This never affects the products price for you.