The Overwatch World Cup is back in 2023. Here you can find everything you need to know about the teams and upcoming events, as well as when and where you can watch the livestreams, so you don't miss a game.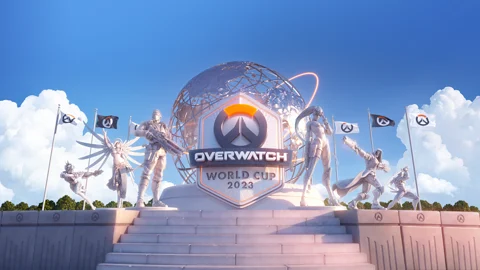 The Overwatch World Cup is finally back, after a big break of three years! In 2023, the fifth Overwatch world champion will be crowned and we can all be part of it. Here is everything you need to know about the Overwatch World Cup, the full schedule and when and where to watch the livestreams.
All 2023 Video Games – Upcoming Release Schedule
Overwatch World Cup 2023 – Everything You Need To Know
The Overwatch World Cup was last held in 2019, but now after waiting for over 3 years, it's back! The World Cup is known to be a tournament that is made for everyone and not only contracted pro gamers. In fact, anybody from around the globe was able to apply, even you! In that sense it is quite different from the Overwatch League, which only includes permanent teams that have a lasting contract with the league.
Although, it has to be said that things are not looking too bright there at the moment.
Schedule
Trials
The Trials are the first rounds to earn a spot in the country and regional team tryouts. Each participating country and region will host the World Cup Trials over three weekends from February 10 to 26.
Team Tryouts
In this stage, all competitors get to prove themselves in the team selection. Blizzards world cup committee will prove the players' competitive rank and decide on 36 country and regional teams in March 2023.
World Cup Qualifiers
The World Cup Qualifiers is the stage, where the 36 official teams can compete against each other as representatives of their region or country. In June, six qualifier matches will be held in each of the six regional groups, which are: America A & B, Europe and Middle East A & B and Asia-Pacific A & B. The 16 best teams will then get to rise up to the next stage, which is when things become exiting, the group stage.
Group Stage
In the Group Stage, launching in fall 2023, we finally get to see the teams live as this is the first LAN event of the world cup! 16 of the best teams will compete against each other in a round robin format, 8 of them ascend.
Finals
This fall, the 8 remaining teams will fight for the top spot in a single elimination bracket and thus crown the next world champion.
Currently Active And Upcoming Twitch Drops In Overwatch 2 – How To Claim Legendary Skins For Free
How To Watch The Livestream
The matches of the World Cup will not be available in livestreams until fall, when the group stage and the finale takes place, so you'll have to be a bit more patient until then. But when the time has come, we will probably get to watch the matches via Twitch or YouTube Gaming, just like the Overwatch League.
By the way, playing Overwatch 2 is a way better vibe with the right equipment! Check out this, and you'll find everything you need for the perfect gaming setup.
The Teams
| | |
| --- | --- |
| America | Group A | America | Group B |
| Canada | Argentina |
| Costa Rica | Brazil |
| Guatemala | Chile |
| Mexico | Colombia |
| Puerto Rico | Ecuador |
| United States | Peru |
| | |
| --- | --- |
| Europe and Middle East | Group A | Europe and Middle East | Group B |
| Belgium | Germany |
| France | Norway |
| Great Britain | Poland |
| Italy | Saudi Arabia |
| Netherlands | Sweden |
| Spain | Turkey |
| | |
| --- | --- |
| Asia-Pacific | Group A | Asia-Pacific | Group B |
| Chinese Taipei | Australia |
| Hong Kong | India |
| Indonesia | Malaysia |
| Japan | New Zealand |
| Philippines | Singapore |
| South Korea | Thailand |
This article contains affiliate links which are marked with [shopping symbol]. These links can provide a small commission for us under certain conditions. This never affects the products price for you.