We tested the Razer BlackShark V2 Pro headset to check if it is indeed the best esports headset out there. So, do the new microphone and integrated FPS audio profiles impress us enough to claim that title?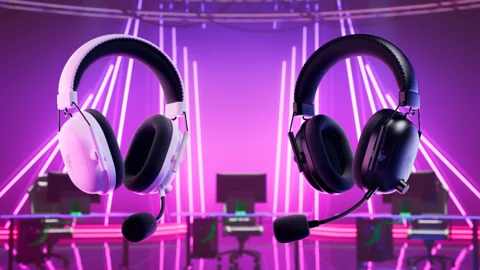 For those who aren't just casual gamers but are deeply passionate about gaming, particularly competitive gaming, hours of practice and the right gear are key. Most dedicated gamers are no strangers to Razer, a brand known for its high-quality gaming peripherals, particularly in the esports scene.
We've previously tested the Razer Huntsman gaming keyboard. However, today our focus is purely on audio. We're reviewing the BlackShark V2 Pro headset, which received a substantial update in 2023. So let's take a look at the BlackShark V2 Pro and figure out, why it is so popular among esports pros.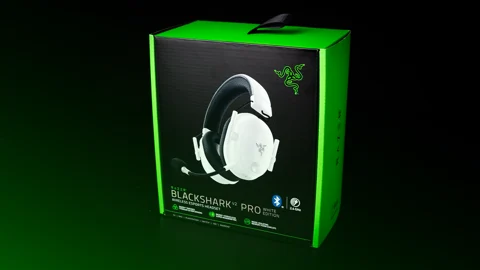 All Razer BlackShark V2 Pro (2023) Upgrades
For Razer enthusiasts and those considering an upgrade, the key question is what new features the 2023 update has brought to the table. Here's a comparison between the original BS V2 Pro and the updated 2023 version:
| | |
| --- | --- |
| BlackShark V2 Pro 2023 | BlackShark V2 Pro 2020 |
| Razer HyperClear Super Wideband Mic | Razer HyperClear SuperCardioid Mic |
| On-Headset Pro-Tuned FPS Profiles | Synapse Audio Profiles |
| Improved Clamping Force, Reinforced Headband, Strengthened Sliders | N/A |
| 2.4 GHz Wireless + Bluetooth 5.2 | 2.4 GHz Wireless |
| Up to 70 hours battery life | Up to 24 hours battery life |
| 15 mins charge for 6 hours of play | N/A |
| USB Type C Charging | Micro USB Charging |
As you can clearly see above, the 2023 version has introduced some significant improvements, most importantly the new microphone and FPS audio profiles. Let's delve deeper into the most vital upgrades.
Upgraded Microphone For Unmatched Communication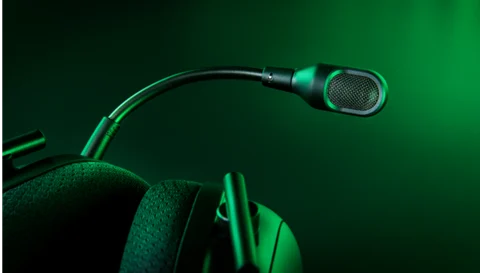 A high-quality microphone is vital for successful teamwork in esports, but wireless headsets are normally quite lacking in this regard. However, it seems like Razer have bucked the trend of wireless headsets having poor mics.
They came up with the Razer HyperClear Super Wideband Mic that ensures crystal clear communications by capturing a wider frequency range of sounds. And it does indeed succeed in providing impressive feedback for a wireless mic.

While we couldn't test the BlackShark V2 Pro in a tournament scenario with a live audience, we can still say the voice quality of the detachable microphone was consistently excellent in our gaming sessions. No static noises, no popping, and certainly no weird phone-like sound.
Just hear it for yourself:
You feel as if your teammates are right there with you, and all their call-outs should be crystal clear, even when speaking in a quieter voice. Thus, there's no need to start shouting amidst the heat of the battle.

With an easily accessible mute button located on the left ear cup, the microphone of the headset can also be muted quickly and effortlessly. So, whether you're coughing up your energy drink or attempting to justify to your mom why an online game can't be paused, a simple touch will do the job.
If you should actually use the headset to listen to music or watch a movie, you can of course also detach the mic completely.
Pro-Tuned FPS Audio Profiles For Total Immersion

A standout feature of the 2023 BlackShark V2 Pro is its professionally tuned FPS audio profiles, developed in collaboration with professional esports players from each respective game. This version offers a total of five game-specific audio profiles for Call of Duty, Fortnite, Apex Legends, CS:GO, and Valorant.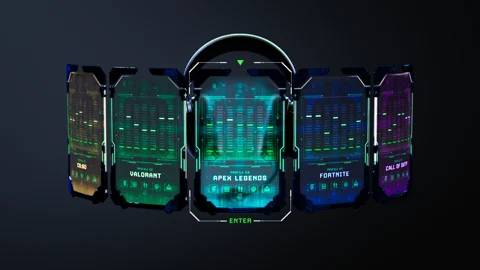 These game-specific audio profiles are designed to optimize the sound for each game, ensuring the perfect balance between footsteps, reloading, and ability sounds. You can easily switch profiles via the Synapse software or the button on the right earcup. If you are using Synapse, you can also edit those profiles to your liking or create and save your own unique audio profile.
The right ear cup also houses a button allowing you to switch between additional preset modes at any time. These include options like Movie, Music, Game, and Custom.
The inclusion of these FPS audio profiles designed by actual pro players is a substantial bonus, providing top-tier sound for some of the most popular competitive shooter games. While we already get quite a lot of games included, we're also looking forward to more profiles being added in the future through updates or separate downloads, particularly for games like PUBG, Halo, and XDefiant.
Gaming For Up To 70 Hours Thanks To Improved Battery & Comfort
With the upgrade to Bluetooth, the 2023 BlackShark V2 Pro can now simultaneously connect to multiple devices via Bluetooth and the 2.4 GHz connection. The headset can be connected to your PC using the 2.4 GHz connection and the included stick, as well as to your smartphone via Bluetooth. This dual connection allows you to listen to music or answer calls on your phone while gaming.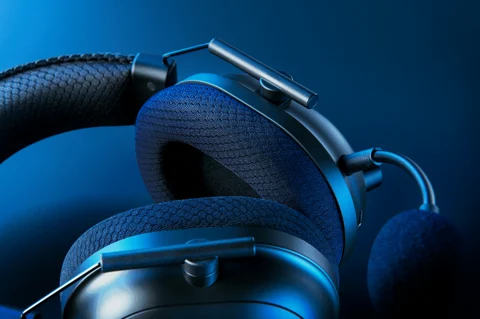 Furthermore, the improved clamping force of the earpieces combined with memory foam earcups offer near-total passive noise-cancelation. Actually, Razer even thought about including active noise-canceling, but decided against it to save on costs and weight. Thanks to the great passive noise-cancelation, however, we were never distracted by background noises in testing.

And perhaps even more impressively, thanks to the latest battery upgrade, the BlackShark V2 Pro now offers up to 70 hours of nonstop gaming. The actual run time may of course vary depending on different factors like volume etc., but this is a substantial leap from the 24 hours offered by the previous version. Additionally, the new USB-C cable allows for a quick recharge, offering 6 hours of playtime from just a 15-minute charge. Hence, you're never likely to run out of battery.
Built For Esports Pros By Esports Pros

So now we know why the Razer BlackShark V2 Pro is as good as it gets. But how did Razer manage to achieve this? Well, the Razer BlackShark V2 Pro was developed in close collaboration with several esports professionals such as Shotzzy (Call of Duty), Refsgaard (Fortnite), dexter (CS:GO) and many more.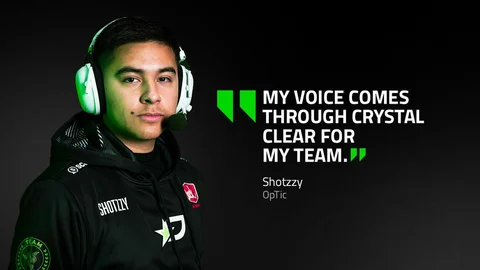 This collaboration involved deep engagement with the professionals. There have been specific testing sessions early in product development and esports pros would point out requirements they had. Later in development, the pros would switch to remote testing and provide regular feedback at all stages.

So yes, the BlackShark V2 Pro doesn't just claim to be an esports headset, it actually was developed with the help of real esports pros.

BlackShark V2 Pro (2023): Conclusion
The BlackShark V2 Pro made a strong impression in our testing with its top-quality microphone and excellent ergonomics. The microphone offers extremely natural voice reproduction, ensuring smooth and clear communication even in intense matches.
The entire headset is surprisingly lightweight, and the earcups provide a snug yet comfortable fit. The headset's secure fit also contributes significantly to its impressive passive noise-canceling capabilities. The FPS audio profiles are also a very nice feature, but only relevant if you are actually playing one of the five provided games.

In summary, the BlackShark V2 Pro (2023) delivers on its promises and serves as an exceptional headset for both casual and professional gamers, impressing with its microphone, comfort, and battery life, among other features.
At a price point of $199.99, it's not a small investment, but it is well worth it considering the quality of this wireless headset.