The long-awaited pirate game from Ubisoft, Skull & Bones, finally got a release date. And then it got delayed again. Check out the details here.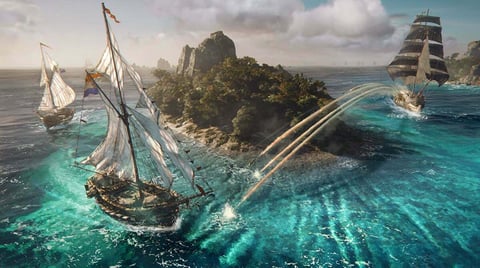 What's the best Assassin's Creed game of all time? Bingo. Assassin's Creed: Black Flag. Which was so shockingly ambitious in its vision and scope, that it's hard to look back and realize how old the game actually is now. For those who haven't played AC: Black Flag and don't know where I'm going with this:
Ubisoft know how to make pirate games set in tropical locations.
They've done it fantastically well once, and they can do it again. Only this time, we aren't going to be setting foot on dry-land, it's all about the boats baby. Does that sound exciting? Well if so, you'll be even happier to hear that we've finally got a release date for
Skull & Bones
.
Skull & Bones Release Date Delayed Again
[Update: September 29]
Ah shit, here we go again. Skull & Bones has been delayed again. I know... what the hell. What is going on with that game. The pirate game, which has been in development since 2013 (!) was slated for a release in November, but now it has been pushed back again. The game will now release (hopefully) on March 9, 2023.
Just completely crazy what is going on with this game. It is one of the worst cases of development hell in video game history. But hey, maybe those last four months will actually make it good? It definitely left a less than amazing impression after the first reveal, so it could do with a bit more work... maybe? We'll see. Read on to see our original story on the first reveal of the release date.
[Original Article]
As reported by known leaker Aggiornamenti Lumiam, Skull & Bones will be released ahead of schedule on November 8, 2022. We thought we had to wait until May 2023, but it seems not. And this was actually corroborated by the infamous leaker Tom Henderson:
— Tom Henderson (@_Tom_Henderson_) June 28, 2022
If this really is the case, which we think it is now Tom Henderson has co-signed it, then you can expect Ubisoft to come out with an official corroboration of this release date very soon. Obviously they would have preferred to reveal the news themselves, but now it's out there (and thanks to leakers it always will be; we already know the GTA 6 setting, for instance) they have to get ahead of the story. They need to "control the narrative", as ridiculous as that phrase sounds in such a trivial context.
We will update you as soon as we get more official news from the team about Skull & Bones. Until then, you can check out everything you need to know about the game here: