During the Xbox Developer Direct, Hi-Fi Rush was announced – and immediately released. The game has immediately won over many hearts, and rightfully so.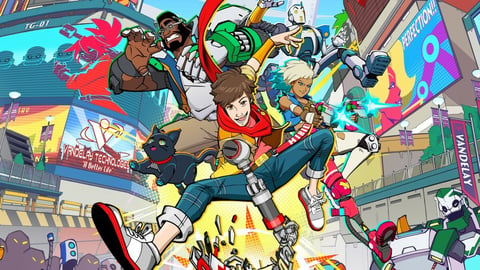 We didn't expect any new announcements during the Xbox Developer Direct, and we didn't get any – with one exception. And that one was quite the hit. Hi-Fi Rush, the new game by Tango Gameworks was announced and immediately released and love for the colorful extravaganza has spread like wildfire.
[ad_placement}
Here's Why Hi-Fi Rush Is So Awesome
Hi-Fi Rush is the latest game by Tango Gameworks, the studio responsible for The Evil Within, The Evil Within 2 and Ghostwire: Tokyo (even though they left that one out of the release trailer... I wonder why lol). It would just be common sense to expect a survival horror game, but no: Hi-Fi Rush is a super colorful and goofy rhythm action game. Ain't gonna lie, they had us in the first half...
This one is definitely a big surprise, on every level, really. And it is awesome: Hi-Fi Rush is extremely fun and also genuinely funny. The game has strong Saturday morning cartoon vibes, and I say that with maximum love. It's very charming, and the cartoon style is just fantastic.
Feel the beat as wannabe rockstar Chai and his ragtag team of allies rebel against an evil tech megacorp with raucous rhythm combat! From Tango Gameworks, the studio that brought you The Evil Within and Ghostwire: Tokyo (no, really) comes Hi-Fi RUSH, an all-new action game where the characters, world and combat stylishly sync to the music!
If you want to experience your personal hi-fi rush, why not get a top notch Bluetooth speaker on Amazon?
The game is basically a character action game like Devil May Cry or Bayonetta, but with a rhythm element wedged in there. The game is all about music, so you beat your enemies to the beat (pun fully intended) of the background music. And the music is obviously killer as well, because this is a game that seems to do everything right.
Hi-Fi Rush is now available on Steam for 29,99$, where the game already has 600 reviews, with 99% of them being positive. It's also on Game Pass, so if you're a subscriber you can play Hi-Fi Rush for free. And if you want to see how cool the game looks in action, check out the reveal trailer here.
This article contains affiliate links which are marked with [shopping symbol]. These links can provide a small commission for us under certain conditions. This never affects the products price for you.