Since Pokémon Go is one of the most downloaded and played mobile games ever, Niantic is now partnering up with CAPCOM to bring Monster Hunter into the real world. How will Niantic's AR technology work out for this project, and will it bring one of the biggest franchises to live?
While in Pokémon Go you could mostly catch cute creatures and have them fight against each other, in Monster Hunter Now things look a bit more dangerous. The game will be distributed by Niantic but still be licensed by CAPCOM, who is not only responsible for the entirety of the Monster Hunter games, they also blessed us with the Resident Evil series. Let's have a look at what they have in store for us here!
Monster Hunter Now: Release Date And Closed Beta
Even though the game was just announced, it seems like we will not have to wait too long until we can fight our first monster! You can already sign up for the closed beta on the official website and get some insights on what is about to come. The final, global release will be in September 2023, you will be able to download the game on the App Store and Google Play.
Monster Hunter Now Features And Key Data
With Monster Hunter being around for several years now, it is important to note that you can enjoy the game without ever having played an older game in the franchise before, you will not have a disadvantage. It is designed for everyone to enjoy at their own pace, whether you are a long-time Monster Hunter player, or a newcomer to the series.
As we know it from Niantic games, Monster Hunter will get similar AR features to Pokémon Go, to create a real world overlay with fantastical and powerful creatures for you to discover. It promises to have the best possible graphics for mobile devices. You can already get a taste for Monster Hunter Now on the official YouTube channel:
Will It Become The New Pokémon Go?
Since Niantic has its hands in both games, there will be some key elements that we already know from Pokémon. Given that there hasn't been much gameplay to see yet, it's hard to judge how much the games will resemble each other. Hopefully it won't be a mere copy of an already existing game, but a unique project.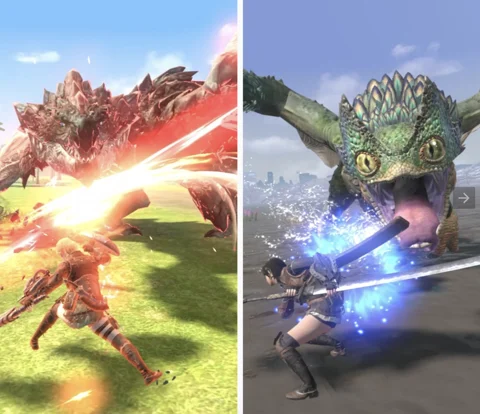 What is already known, however, is that there will bea multiplayer system, a little like in Pokémon Go, where you can participate in a battle together with your friends. What Pokémon Go doesn't have, for instance, is the option to not only play the game wherever you want, but now also whenever you want.
There will be a mechanic called "Paintball", which is used to tag monsters you meet outside and take them home with you, so you can determine the time and spot where to battle them. You will also be able to craft and equip weapons and shields to defend yourself from the monsters you encounter.
For further information, you can always visit the games' Twitter account to stay up-to-date if you are interested in the topic. We are excited to see how the finished project looks like in a few months time!