It's pretty impressive to see what AI technology can do these days. It creates art, full articles, programming code, and apparently even Super Mario levels! Check this out.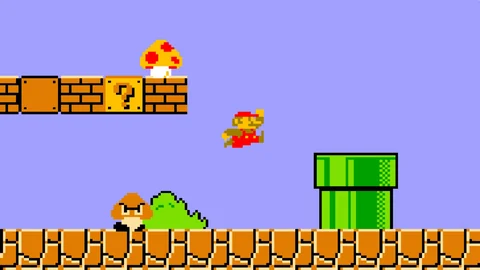 What was science fiction yesterday has suddenly become reality. New technologies based on artificial intelligence can now be found in nearly all everyday life situations and are being used more and more as such. We gamers also have to deal with AI. Not only is it used in the responsive behavior of NPCs, but recently an AI was even taught to build endless Super Mario levels. Check this out!
Hidden In Your Nintendo Switch: Awesome Features You Should Start Using
MarioGPT: An AI That Creates Super Mario Levels
A group of six people from the IT University of Copenhagen has built the first text-to-level AI, which is trained to generate tile-based game levels, such as the ones in Super Mario Bros. This tool can generate an endless Super Mario level, by accessing a relatively small set of levels from the original game.
MarioGPT is a finetuned GPT2 model that is trained on a subset of Super Mario Bros levels. To incorporate prompt information, we utilize a frozen text encoder in the form of a pretrained bidirectional LLM (BART), and output the average hidden states of the model's forward pass. pic.twitter.com/H6ZSPUFgdF

— Sebastian Risi (@risi1979) February 14, 2023
MarioGPT is able to transform simple orders into Super Mario levels. By giving it text-based commands, such as "many pipes, many enemies, little blocks, low elevation", MarioGPT will build a level that is based on this description.
A pretty fascinating tool, if you ask me. I'm curious to see what else it will be used for. After all, the gaming world and AI technologies are practically made for each other and offer a whole paradise of possibilities!
The code, as well as an extensive PDF document about this project, is publicly available to anyone who is interested in the field and wants to become acquainted with it.
Fancy a go at Super Mario? Here you can grab the new Nintendo Switch OLED on Amazon
This article contains affiliate links which are marked with [shopping symbol]. These links can provide a small commission for us under certain conditions. This never affects the products price for you.