The Zelda: Tears of the Kingdom file size has been revealed, showing how huge the game is shaping up to be. While some might think of it as an expansion for BotW, we're sure it's going to be way more than that. Here is why.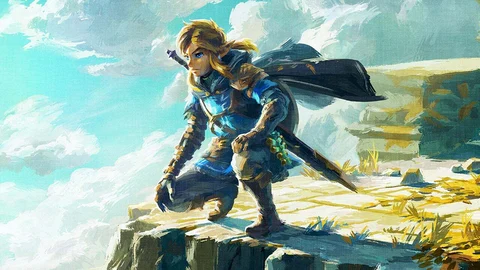 The Legend of Zelda Tears of the Kingdom is Nintendo's next big release of 2023 and one of the most anticipated games this year. It has often been criticized for being too similar to Breath of the Wild and appearing more like DLC than its own game. However, recent information about the file size suggests that Zelda Tears of the Kingdom may have a lot more in store than we think.
The Legend of Zelda: Tears Of The Kingdom - Release Date, Story, Gameplay & More

Zelda: Tears of the Kingdom Size Bigger Than Expected
Breath of the Wild is a pretty big game, and since Zelda: Tears of the Kingdom is made from the same ingredients but with a different recipe, many expected that it wouldn't go far beyond the first game's scope... oh how wrong we were. Tears of the Kingdom is in fact going to be the biggest Nintendo game ever made for the Switch.

Zelda: Tears of the Kingdom has a file size of 16.2 GB, which is a pretty significant increase, considering that Breath of the Wild had less than 14 GB. It was previously reported that the game would have a file size of around 18 GB, but that information changed on the Nintendo Store.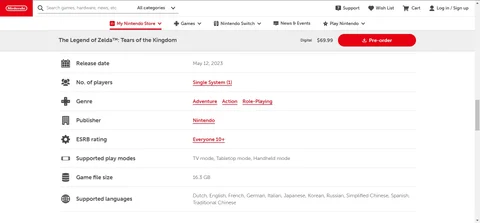 Although everyone is super hyped for it, many fans are afraid that it might just feel like a DLC for Breath of the Wild. I get it: It's still the same graphics, the same Hyrule, the same everything. But why would the game be this big then, eh?
Zelda Tears Of The Kingdom Spoilers Are Everywhere After Entire Game Leaks Online

We believe the new Zelda has much more to offer than we can even imagine. It's only in question what is hiding behind that additional 4 GB... Well in any case, it's going to be amazing. Seriously, we're talking about Zelda, what are y'all worried about?

This article contains affiliate links which are marked with [shopping symbol]. These links can provide a small commission for us under certain conditions. This never affects the products price for you.