DRX won the 2022 League of Legends World Championship in a banger 5-game series. Finally, their championship skins have made it onto the PBE so let's go over everything we know.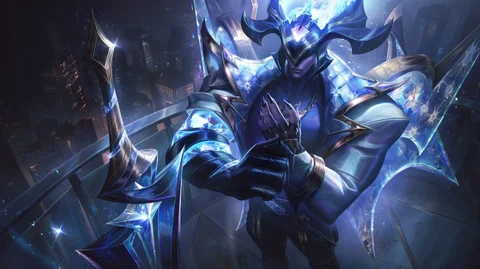 DRX won Worlds in 2022 and have had the honour of adding new skins into Legaue of Legends to cement themselves into the history books on Summoner's Rift. Finally, the skins have made it to the PBE and we can check out whether they're hot or a flop.
Seven skins will be released this year for the World Championship, with Riot also adding in a prestige skin, but which champion has the honor of getting this prestige World Championship skin?
Which LoL Champions Will Get DRX World Championship Skins?
Six champions will be getting skins this time around. Since DRX had a substitute, Juhan, who also played some games at the tournament, he was eligible to also receive a World Championship skin, which means we're getting six instead of the usual five World Championship skins.
DRX Aatrox
DRX Kindred
DRX Maokai
DRX Akali
DRX Caitlyn
DRX Ashe
DRX also paid homage to their veteran bot laner Deft, by featuring the famous alpaca in their skins, which is a very nice gesture to the long time League of Legends pro.
DRX World Championship Skins To Include Prestige Skin
This is also going to be the first time that a prestige skin will be made for the League of Legends World Championship skins. Since Kingen received the Worlds Finals MVP, his champion choice will also be getting the prestige version.
DRX World Championship Ward
While Deft might not have gotten the prestige skin as many had hoped he would, his favorite animal, and one he's been compared to throughout his whole career will be immortalized in the DRX ward.
The DRX ward will also be made available for purchase with the upcoming League of Legends patch, just like the skins.
How Much Will The DRX World Championship Skins Cost?
These skins are all going to be 1350 Epic skins. Riot does not usually make any legendary skins for the World Championship, since these are skins chosen by the players.
As mentioned though, this will be the first time a prestige skin is added into the mix, which will cost 125 Mythic Essence in the Mythic Shop.
When Will The DRX World Championship Skins Release?
These skins will be released in LoL Patch 13.11. This means they will go live on June 2, 2023, a day after the patch officially drops onto the live servers. These skins will come alongside the Rell and Ivern Mid-Scope Updates as well.
The skins look great and have a lot of fun little easter eggs added into them and Pyosik finally got a new Kindred skin, something he's been asking for, for a very long time.
This article contains affiliate links which are marked with [shopping symbol]. These links can provide a small commission for us under certain conditions. This never affects the products price for you.