MSI 2023 has been an incredible tournament with insanely high viewership numbers. While League of Legends fans have praised the new format, some are worried for the future of the World Championship and the time between games.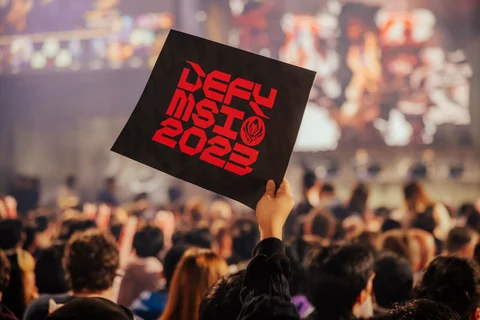 Both MSI 2023 and the League of Legends World Championship have brand-new formats to include more best of three and best of five series. Some things have stayed the same though, especially for the World Championship, like the non-double elimination playoffs.
Some fans, who have enjoyed the double elimination action of MSI 2023 are worried for Worlds though and the format, wondering how it'll feel to wait an entire week between matches.
LoL Worlds 2023: Players Want More Esports Action
For the last few years fans have been begging Riot to upgrade their tournament formats, especially for the League of Legends World Championship. Finally, at the start of 2023 they announced some huge changes to both the World's and Mid-Season Invitational format.
While MSI has adopted a double elimination format, Worlds will not have one, which means that once the Swiss Round ends, fans will have to wait an entire week between matches.
This is what fans are worried about, stating that they feel that the hype of the tournament dies down whenever they have to wait so long for any esports action.
Fans do understand that Riot is trying to put the most important games of the tournament on the weekends, so the most people can tune in, but this comes at the cost of a lot of hype and excitement for the games, with many feeling like the semi finals and quarterfinals are just an afterthought on their weekend.
Fans have even expressed that they are more hyped for the best of three Swiss stage games than the single elimination bracket stage that comes after, since 5 games will be spread out over the span of 21 days.
At least Riot has added more best of series into their tournaments and even with the long wait, they'll still rake in enough viewership and hype. They have expressed their desire to keep the single elimination bracket at Worlds, so we likely won't be seeing a change for 2024.
Personalize your gaming keyboard with your favorite League of Legends champion-themed key caps!

This article contains affiliate links which are marked with [shopping symbol]. These links can provide a small commission for us under certain conditions. This never affects the products price for you.