The 2023 League of Legends year is starting off strong with a whole bunch of new skins. Riot will be releasing two set of Lunar New Year skins, the Mythmaker and the Lunar God skins. We're going to check out the Mythmaker skins, champions and much more right now.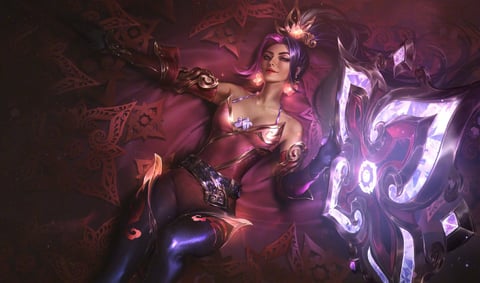 2023 is going to start off strong with the first set of skins being part of the Lunar New Year celebration. Two prestige skins will be released simultaneously, one being Sivir for her brand-new Mythmaker skin, another going to none other than Porcelain Lissandra.
But what other champions will get Mythmaker skins, and how much are they going to cost us? Will you be able to afford all of these gorgeous skins, or will you need to ask your family for some more Riot Points for Christmas before the skins hit live servers?
LoL Mythmaker Skins: All Champions Getting New Skins
In total, we are going to be getting five new champion skins with a sixth prestige skin. Irelia will also be receiving a legendary skin to kick off the year 2023. These skins all come with a golden/red hue and look incredible so we can't wait to see them on live servers.
Irelia (Legendary)
Galio
Zyra
Garen
Sivir
Sivir was one of the best champions in the second half of 2022 so it makes sense for her to be getting some more love. She finally received her first legendary this year and now she'll also be donning a prestige skin. Is she Riot's new favorite?
Upcoming Mythmaker Skin Costs
These skins will cost 1350 RP for players since Riot usually only releases skins in the Epic tier. Only the Irelia skin is going to be more expensive since it's a legendary skin, which means you'll have to fork over 1820 RP. Legendary skins have new voice lines and new animations added as well which make them more pricey than their epic counterparts.
The Sivir prestige skin will be available for tokens in the event shop, since we will likely have a Lunar New Year event to kick off 2023 with these skins, which means you'll need to earn tokens to get this skin. It will also be available for 125 Mythic Essence.
Mythmaker Skin Release Date
These skins will be released at the start of the 2023 season. So you can expect them in LoL Patch 13.1 which is set to release on January 10, 2023. Skins usually hit the client a day after though.
The Lunar God skins will be coming to the rift two weeks later with LoL Patch 13.2. But get ready to celebrate the Lunar New Year in style!
This article contains affiliate links which are marked with [shopping symbol]. These links can provide a small commission for us under certain conditions. This never affects the products price for you.