K'Sante was just recently released in League of Legends, so now it's time we look ahead at the next champion and this one is going to be a unique, cute new supporter. Are you ready for the next LoL champion on Summoner's Rift?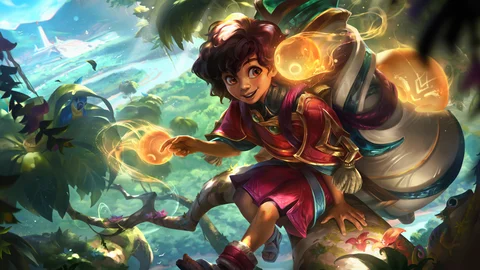 The next LoL champion is none other than Milio! We first learned about him in 2022 and finally, the young boy from Ixtal has been revealed by Riot. Following his release we will receive a new Darkin champion as well, as per the 2022 Champion Roadmap.
Milio is going to bring a breath of fresh air to League of Legends with his unique and fun gameplay, so let's check out this male enchanter and what he will offer to the meta in League of Legends.

New LoL Champion Milio: Everything You Need To Know
What Role Will Milio Have?

Milio is going to be a brand-new enchanter on the rift. This will be the second enchanter in two years with the 2022 support champion, Renata Glasc, also being an enchanter. Unlike her though, Milio is going to be a much more backline-heavy support ready to shield his allies when needed, while Renata is played more aggressively.
Milio's abilities will enable him to help out his team thanks to the insane amount of AoE he's got, so let's go over his abilities so you know what to expect when you pick him up.

Get familiar with the upcoming patch! Here is a quick rundown of the most important info:
Milio's Abilities Revealed
Milio is a very good champion for team situations. He's got multiple AoE abilities that will buff and help out his allies. Pairing him with long ranged champions is also essential for a great laning phase.
So let's check out his abilities and what they do on the rift:
| | |
| --- | --- |
| Name | Ability |
| P - Fired Up | Milio's abilities enchant allies on touch, making their next damage deal a burst of extra damage and burn the target. |
| Q - Ultra Mega Fire Kick | Milio kicks a ball that knock back an enemy. The ball launches upward on hit and falls toward the enemy, damaging and slowing enemies in the area upon impact. |
| W - Cozy Campfire | Milio creates an empowering zone that heals allies and increases attack range to those inside. The zone follows the ally nearest to the cast point. |
| E - Warm Hugs | Milio tosses a shield to an ally, temporarily increasing their movement speed. |
| R - Breath of Life | Milio unleashes a wave of soothing flames that heal and remove crowd control effects from allies in range. |
What Does Milio Look Like?
Milio comes from Ixtal. He's got big eyes and a head full of curly hair with tanned skin. Riot Reav3 did explain that the team took some inspiration from movies like Encanto, while it was also revealed that some LATAM Rioters helped out by showing images of their nephews during the process of creating his look.
Milio is older than Annie and Nunu, being around 12 to 14 so he is more mature than them, but still a young boy champion, giving him a childish and free look.
When Will Milio Be Released?
Riot have added a small Milio Easter Egg onto the PBE 13.4 patch, but this does not mean he will be released in LoL Patch 13.5. With him being shown now, just means that his release is going to be League of Legends Patch 13.6.
After Milio's release get ready for the next champion that is going to be none other than Naafiri, the Darkin champion. We're excited to see what this mid lane assassin will hold for players in the future.
This article contains affiliate links which are marked with [shopping symbol]. These links can provide a small commission for us under certain conditions. This never affects the products price for you.