Riot just revealed their newest skin line 'Inkshadows' which will be released for the 2023 Mid-Season Invitational. Let's check out everything we know about these brand-new skins, their price, the champions and much more!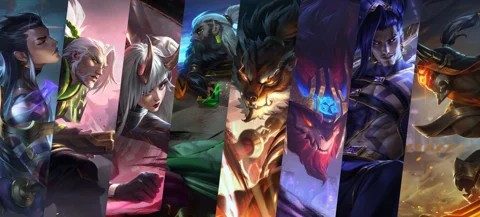 Riot was a little early this time around with all of their brand-new Inkshadow skins, showing off the ones that will be available throughout the month of April. No guys, this isn't an April Fool's joke either, these are the new skins.
Riot is trying out something new with these skins, adding similar effects to them that we already saw last year for the Fright Night skins. Honestly, these new LoL skins look amazing so let's just jump into all the information we've got.
LoL Inkshadow Skins: Champions
Seven champions are going to be getting new Inkshadow skins according to the official League of Legends Twitter account. Many fans have shared how upset they are though that the same champions are receiving legendary and prestige skins this time around, again.
Sett would have been perfect for this skin line... but let's check out some fun references in LoL:
Recently, Riven, who already has a legendary got one, as well as Miss Fortune who received her second prestige skin not too long ago. We're in a similar situation this time around with the Inkshadow skins.
Inkshadow Yone
Inkshadow Yasuo
Inkshadow Master Yi
Inkshadow Aurelion Sol
Inkshadow Kai'Sa
Inkshadow Udyr
Inkshadow Volibear
Yasuo will also be getting a prestige skin which will be attainable through the MSI 2023 battle pass event.
How Much Will The Inkshadow Skins Cost?
Master Yi will be receiving his second legendaery skin in this skin line, meaning his will cost more than the others. You're going to have to fork over 1820 RP, while the rest of the bunch are regular epic tier skins, meaning they'll cost 1350 RP.
The Yasuo Prestige is going to be part of the MSI 2023 pass, which means players will need to purchase the battle pass and farm 2,000 tokens to be able to get the prestige skin.
Unlimited power for the ultimate price.

Inkshadow Yone, Yasuo, Auerlion Sol, Kai'Sa, and Udyr hit the PBE on April 4 just in time for MSI. Then Volibear, Master Yi, and Prestige Inkshadow Yasuo will follow on April 18. pic.twitter.com/5gPiMvFtpn

— League of Legends (@LeagueOfLegends) April 2, 2023
Inkshadow Skins In MSI 2023 Event
For big esports events, Riot usually puts on a special in-game event. Of course, players have been more and more disgruntled with the events in League of Legends, but it's highly unlikely that the grind for those events is going to stop. So, if you're looking to pick up the Yasuo prestige you'll need to free up your schedule so you can enjoy that League of Legends grind.
LoL Inkshadow Skins: Release Date
Some of the Inkshadow skins have hit the PBE with the LoL Patch 13.8 cycle, but Riot did confirm on Reddit, that all the Inkshadow skins will release in League of Legends Patch 13.9, which will release two days after the start of MSI.
This means that the MSI event, as well as the skins are going to be live May 4, 2023 (Star Wars Day!) and you'll be able to pick them up just in time to watch your favorite teams play at the second-biggest esports event.
This article contains affiliate links which are marked with [shopping symbol]. These links can provide a small commission for us under certain conditions. This never affects the products price for you.