The LoL Patch 13.7 release is just around the corner! After a few turbulent weeks, League of Legends fans are very much hoping that Riot will get things more under control again. Here are the early patch notes for the upcoming LoL patch.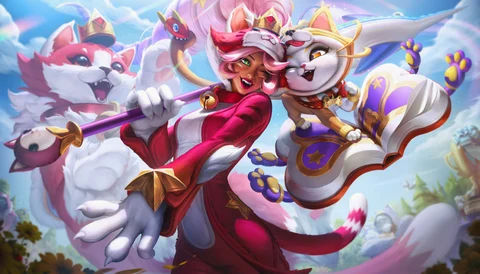 Support mains galore! League of Legends Patch 13.6 brought us a new competitor: Milio, the Gentle Flame has arrived at Summoner's Rift. That made us wonder: Has Riot actually for once managed to release a well-balanced champion or will he again be nerfed in LoL Patch 13.7? Well, in fact he already got nerfed just a few hours after being made available to play.
We will give you an in-depth look on everything about the upcoming League of Legends Patch. Of course there will be new skins, but also a lot of adjustments for champions, items and in-game systems that have been tested on the LoL Public Beta Environment (PBE) beforehand. As soon as these changes hit the PBE, you'll find them listed right here!

LoL Patch 13.7 Patch Notes: Buffs & Nerfs
Champion Buffs
As we are heading towards the 2023 Mid-Season Invitational, some more balance changes are being done to try and get some struggling champions into the meta, just in time for the first big international tournament of the year.
Azir
Base Stats

Base Armor: 19 ⇒ 22
Attack Speed Growth: 5% ⇒ 6%
Passive - Shurima's Legacy

Duration: 30 seconds ⇒ 45 seconds
Cast Range: 500 ⇒ 700

Q - Conquering Sands

Mana Cost: 65/70/75/80/85 ⇒ 70/80/90/100/110
Stab Range: 370 ⇒ 325

W - Arise!

Magic Damage: 0-110 (based on level) (+50/60/70/80/90) (+55% AP) ⇒ 0-92 (based on level) (+50/67/84/101/118) (+55% AP) (Note: Assuming W max, this is a damage per hit buff that scales from +0 to +10 by level 11 and then stays there.)
Mana Cost: 40 at all ranks ⇒ 40/35/30/25/20
Riot MMORPG: What Do We Know About The Game?
Kalista
Base Stats


Attack Damage Growth: 3.5 ⇒ 3.75

Passive - Oathsworn Bond

Oathsworn Ceremony Duration: 12 seconds ⇒ 8 seconds (Note: This begins when Kalista activates her Black Spear.)
[NEW] Ride Together, Channel Together: Kalista is now forced to channel on the Black Spear while her Oathsworn is reviving
Katarina
Passive - Voracity

Sinister Steel Dagger Magic Damage: 68-240 (based on level) (+ 60% bonus AD) (+65/75/85/95% (levels 1/6/11/16) AP) ⇒ 68-240 (based on level) (+ 60% bonus AD) (+70/80/90/100% (levels 1/6/11/16) AP)

R - Death Lotus

Physical Damage per Dagger: 18% (+30% per 100% bonus AS) bonus AD ⇒ 16% (+50% per 100% bonus AS) bonus AD
Graves
Passive - New Destiny

Critical Strike Bonus Per Pellet: 20% ⇒ 30%

R - Collateral Damage

Cooldown: 120/90/60 seconds ⇒ 100/80/60 seconds
Alistar
Base Stats

Base Armor: 44 ⇒ 47
Base Health: 670 ⇒ 685
Yasuo
Passive - Way of the Wanderer

Shield Amount: 100/105/110/115/120/130/140/150/160/170/180/200/220/250/290/350/410/475 ⇒ 100/105/110/115/125/135/145/160/175/195/220/250/275/325/375/425/500/575

E - Sweeping Blade

Damage Increase per Stack: 25% of E's base damage ⇒ 15-25% of E's total damage (scales linearly, levels 1-18)
Maximum Stack Amount: 2 ⇒ 4
Support your favorite team with some epic gamer merch like these Fnatic React Gaming Headphones!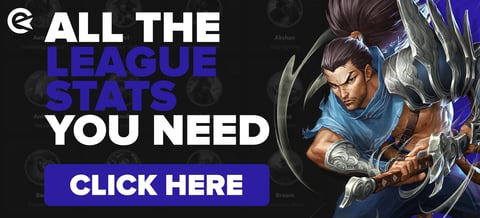 Champion Nerfs
With MSI fast approaching there are some champions that fans are pretty sick of seeing in every single professional game, so Riot is toning done some champions ahead of the tournament.
Rammus
W - Defensive Ball Curl

Bonus Armor: 35 (+40/55/70/85/100% total armor) ⇒ 35 (+40/50/60/70/80% total armor)
Veigar
Q - Baleful Strike

AP Ratio: 60% at all ranks ⇒ 45/50/55/60/65%

W - Dark Matter

AP Ratio: 100% at all ranks ⇒ 70/80/90/100/110%

E - Event Horizon

Sneaky Stuns: Veigar can no longer hide his E VFX from enemies by placing it inside certain walls.

R - Primordial Burst

AP Ratio: 75% at all ranks ⇒ 65/70/75%
Sejuani
Passive - Fury of the North

Elite Monster Damage Cap: 300 ⇒ 250

Q - Arctic Assault

Cooldown: 18/16.5/15/13.5/12 ⇒ 19/17.5/16/14.5/13

R - Glacial Prison

Cooldown: 120/100/80 ⇒ 130/110/90
Vi
Q - Vault Breaker

Minimum Physical Damage: 55/80/105/130/155 (+70% bonus AD) ⇒ 45/70/95/120/145 (+80% bonus AD)
Maximum Physical Damage: 110/160/210/260/310 (+140% bonus AD) ⇒ 90/140/190/240/290 (+160% bonus AD)

E - Relentless Force

Physical Damage: 10/30/50/70/90 (+110% AD) (+90% AP) ⇒ 0/15/30/45/60 (+120% AD) (+100% AP)
Wukong
Base Stats
W - Warrior Trickster

Cooldown: 22/19.5/17/14.5/12 seconds ⇒ 22/20/18/16/14 seconds

E - Nimbus Strike

Bonus Attack Speed: 40/45/50/55/60% ⇒ 35/40/45/50/55%
Lee Sin
Base Stats

Base Attack Damage: 68 ⇒ 66
Base Armor: 36 ⇒ 34
League of Legends: Riot Forge Releases Mageseeker Prequel
Zeri
Base Stats
Passive - Living Battery

Shield Absorption: 60% of damage dealt ⇒ 45% of damage dealt

R - Lightning Crash

Magic Damage: 175/275/375 (+100% bonus AD) (+110% AP) ⇒ 175/275/375 (+85% bonus AD) (+110% AP)
Annie
E - Molten Shield

Cooldown: 12/11/10/9/8 seconds ⇒ 12/11.5/11/10.5/10 seconds
Shield Amount: 60/100/140/180/220 (+40% AP) ⇒ 60/95/130/165/200 (+40% AP)
Olaf
Passive - Berserker's Rage

Attack Speed: 60-100% (based on level) ⇒ 50-100% (based on level)

Q - Undertow

Physical Damage: 70/120/170/220/270 (+100% bonus AD) ⇒ 65/115/165/215/265 (+100% bonus AD)
Thresh
Q - Death Sentence

Cooldown Refunded On Hit: 3 seconds ⇒ 2 seconds
Champion Adjustments
There will only be a single champion receiving adjustments going into LoL Patch 13.7 and it's going to be Kha'Zix. Let's have a look at what Riot wants to change about his kit:
Kha'Zix
Q - Taste Their Fear

Isolation Range: 425 ⇒ 375

W - Void Spike

Evolved Slow: 60% ⇒ 40%
Evolved Slow Against Isolated Targets: 90% ⇒ 75%

R - Void Assault

Duración de la mejora: 10 segundos ⇒ 12 segundos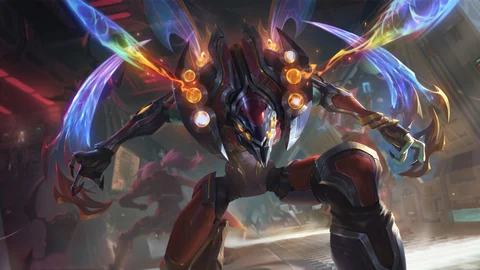 System Adjustments in League of Legends Patch 13.7
Not only are we going to be getting some champion changes this patch, but a few items are being adjusted as well. Death's Dance is getting a buff, while Catalyst of Aeons will be nerfed and Cosmic Drive will have a few fixes as well when LoL Patch 13.7 goes live.
System Buffs
Rod of Ages
Combine Cost: 415 gold ⇒ 215 gold
Abyssal Mask
Health: 500 ⇒ 550
Combine Cost: 650 gold ⇒ 450 gold
Death's Dance
Attack Damage: 65 ⇒ 55
Ability Haste: 0 ⇒ 15
Armor: 50 ⇒ 45
Item Recipe: Pickaxe + Chain Vest + Pickaxe + 750 gold ⇒ Pickaxe + Chain Vest + Caulfield's Warhammer + 525 gold
Grievous Wounds
Oblivion Orb / Morellonomicon / Chemtech Putrifier / Executioner's Calling / Mortal Reminder / Chempunk Chainsword: Now apply Grievous Wounds to targets that completely block the damage with shields. Invulnerable targets are still exempt.
System Nerfs
Catalyst of Aeons
Health: 225 ⇒ 300
Combine Cost: 350 gold ⇒ 550 gold
Total Cost: 1100 gold ⇒ 1300 gold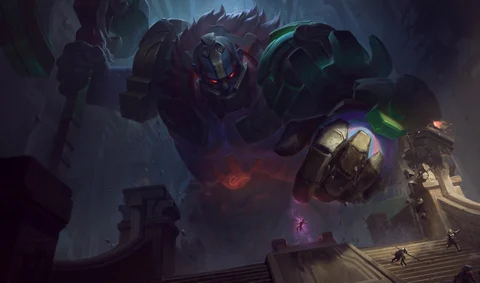 ARAM Champion Nerfs
Some champions are just too strong in ARAM so Riot is going to be nerfing them.
Karthus: Passive Duration: 7 seconds ⇒ 5 seconds
Sion: Passive Form Lifesteal: 100% ⇒ 50%
Veigar: E Cooldown: 20/18.5/17/15.5/14 seconds ⇒ 23/21.5/20/18.5/17 seconds
Riot To Add Off-Screen Pings
To try and help those of you who don't regularly check the moi map to see what your teammates are pinging, Riot will introduce off-screen pings. These will show up on the edge of your screen and Riot hopes that more people wil stay safe on the Rift.
Global Pings
These pings will be displayed to players, no matter who sent it. Even if you've in bot lane and the top laner used it, you'll see it pop up at the edge of your screen.
Proximity Pings
These are pings that will appear at your edge of vision, if the person who used it is within a specific radius of your champion. Riot did state that this is about the same range as a Lux or Caitlyn Ultimate.
Assist Me
Caution
On My Way
Retreat
Hold
LoL Patch 13.7: New Cats vs. Dogs Skins
No new League Patch without some fresh skins, eh?! This time it's the Cats vs. Dogs skin line celebrating its comeback. You can already admire two of the new skins in our header image up top. Riot has announced the return of the popular skin line during the Season kickoff, now it will release in celebration of April Fools!

These are the champs that will receive a new Cats vs. Dogs skin:
Shiba Yuumi
Kittalee Nidalee
Woof and Lamb Kindred
Kibble-Head Kled
Either you love her or you hate her: Yuumi has stirred a lot of controversy during Worlds 2022:
As you can easily make out, it's Yuumi and Nidalee having a fun time together on that splash art up top. These fun skin lines always seem like the designers have been given complete freedom to get as creative as possible, which is great honestly.
One thing we need to mention: While the Broken Covenant skins have received a skin showcase and the Faerie Court skins even got a full-on event, the Cats vs. Dogs skins will regularly release one day after the patch drops without any kind of event.
This is mainly because the Faerie Court Event will still be ongoing during the time these April Fools skins are set to release. That means you'll still have more than enough time to grind as many tokens as possible once LoL Patch 13.7 drops.

LoL Patch 13.7 Release Date
LoL Patch 13.7 will drop on Wednesday, April 5, 2023. More than enough time to get used to our new champion Milio and we're curious to see whether he'll get nerfed again! When was the last time Riot actually released a properly balanced rework or champion? I certainly can't remember.

Although we might need to add that Milio's kit is a lot more approachable than say Zeri's or K'Sante's. Most of the champions Riot released during 2022 have been high-skill picks, but we can still advise you to take a look into our guide on how to play Milio!
Stop by again in a few days, we'll be constantly updating this article with all changes regarding LoL Patch 13.7. Until then – have fun, Summoner!

This article contains affiliate links which are marked with [shopping symbol]. These links can provide a small commission for us under certain conditions. This never affects the products price for you.