Riot has just revealed a new skin line called Broken Covenant which will be making its way onto the rift in LoL Patch 13.5.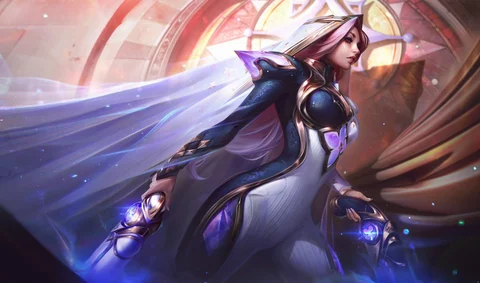 A brand-new skin line has made its way onto Summoner's Rift with the upcoming Broken Covenant skins. We're getting a whole lot of popular champions with new skins and some surprise champions as well who work wonders with this fun concept.
So let's go over all the champions getting brand-new skins and how much the Broken Covenant skins will cost you. Is your wallet ready for these high-fantasy skins?
Which LoL Champions Will Get Broken Covenent Skins?
Some pretty unexpected champions will be getting Broken Covenant skins. This time around, but the diversity in this skin line is pretty amazing with creature champions, human and semi-human champions amongst the bunch. Pretty exciting to see so many different champion types in one brand-new universe.
Broken Covenant Riven
Broken Covenant Xayah
Broken Covenant Rakan
Broken Covenant Nocturne
Broken Covenant Vladimir
Broken Covenant Cho'Gath
Broken Covenant Miss Fortune
Miss Fortune is going to be getting a prestige version of her skin as well. This will be her second Prestige skin, having gotten a prestige version of her Bewitching skin in 2019. Kind of sad that we aren't getting any more monster champions with prestige skins though... Nocturne would have looked amazing with this concept
How Much Will The New Broken Covenant Skins Cost?
Riven will be receiving the most expensive skin of the bunch. This is going to be the iconic champion's second Legendary skin and will cost 1820 RP. This also means she's got some new animations, new voice lines and VFX and SFX.
The other skins are going to be Epic skins which means you'll have to fork over 1350 RP for them. The norm for new skins is usually the Epic tier, with one of the bunch being placed in the Legendary tier, so this is no surprise for anyone really.
Miss Fortune will be getting a prestige skin which you can pick up for 125 Mythic Essence in the mythic shop.
Will Broken Covenant Get An Event?
Players will be able to admire these skins in a skin line showcase which is going to go live with LoL Patch 13.5. This means the event will be smaller than any League of Legends event, btu you will still be able to get some in-game loot with grab bags and capsules.
When Will The New Broken Covenant Skins Release?
The new Broken Covenant skins are going to be going live with LoL Patch 13.5, which is set to release on Wednesday, March 8, 2023. Before then the new Astronaut skins will make their way onto Summoner's Rift in LoL Patch 13.4.
We're still wondering when Milio, the newest LoL support is going to be live. We'd hoped it would be LoL Patch 13.5, but it seems Riot is taking some more time with this champion before his release.
This article contains affiliate links which are marked with [shopping symbol]. These links can provide a small commission for us under certain conditions. This never affects the products price for you.