Let's check out everything about new LoL skins in 2023. Which skins are we getting, and which champions will receive skins?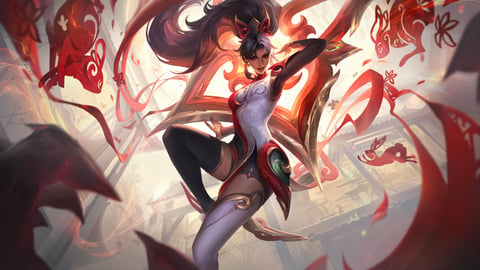 League of Legends is a free to play MOBA that has made most of its earnings through the sale of cosmetics for the various champions within the game. As LoL is heading into 2023, and it's 13th season, we are going to be getting more skins for the 160 champions.

So let's check out everything we know about the new LoL skins in 2023 and what plans Riot has for their cash cow. Which skins are you most excited about this year?
LoL: Which Skins Have Been Released In 2023?
We know that there are around 1,400 unique skins in League of Legends at the start of 2023. This year more skins will be added to the repertoire and many more champions will be receiving new and unique looks for League of Legends.
While we had a bunch of brand-new skins in 2022, we do expect some epic new skins, as well as re-runs of some fan-favorites in 2023. Maybe some more Shan Hai Scrolls skins this year? Please and thank you!
| | | | |
| --- | --- | --- | --- |
| Skin Line | Champions | Release Date | LoL Patch |
| Mythmaker | Irelia, Galio, Zyra, Garen, Sivir | January 12, 2023 | LoL Patch 13.1 |
| Lunar Gods | Ashe, Qiyana, Thresh, Kha'Zix, Malphite | January 26, 2023 | LoL Patch 13.1b |
| Heartache & Heartthrob | Vi, Caitlyn Amumu | February 9, 2023 | LoL Patch 13.3 |
What Champions Will Receive Skins in 2023?
There are quite a few champions that have not gotten new skins in ages. Riot will try to make sure that these champions are finally getting some new drip on the rift in 2023:
Aurelion Sol
Ivern
Kled
Kalista
What Skin Thematics Will Riot Release in LoL Season 13?
Riot is going to be bringing back the Cats vs. Dogs skin line, which is one of their fun April Fools skin lines for 2023. This skin line will likely include Kled, since a splash art from the thematic was already shown.
Riot is also going to be introducing a new skin line with Fae Magic. Kalista is going to be getting a skin in this thematic, as well as Karma whose concept art was also already revealed.
How Many Skins Will Riot Release in 2023?
In 2022, we received almost 140 skins, the same as in 2021, which is why we believe that in 2023 we will once again be getting around 130 or 140 skins! With each League of Legends patch being released almost every 2 weeks and there being at least 3 or more skins added each patch, we can hope for a lot of new looks.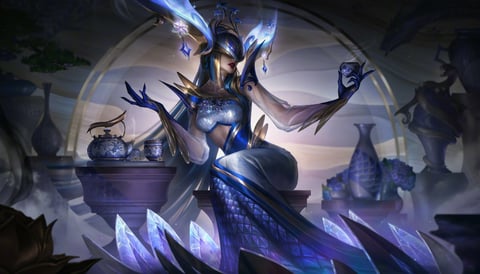 Which Prestige Skins Have Been Released in 2023?
Prestige skins will once again be making a comeback in 2023. In 2022, the skins team buffed the prestige thematic, adding brand-new concepts to make them feel more exclusive.
| | | | |
| --- | --- | --- | --- |
| Skin Line | Champion | Release Date | LoL Patch |
| Mythmaker | Mythmaker Sivir Prestige Edition | January 11, 2023 | LoL Patch 13.1 |
| Porcelain | Porcelain Lissandra Prestige Edition | January 26, 2023 | LoL Patch 13.1b |
The Porcelain skins were released in 2022 for the Lunar New Year. Lissandra's skin will be getting a prestige version for 2023, but Riot has not revealed yet whether it'll be part of the Lunar Revel event or in the mythic shop to purchase with Mythic Essence.

LoL Mythic Shop: What Skins Are Available?

Since players did not think that Hextech skins were that special or unique, Riot has decided to create 'seasonal mythics' which will have a rotating thematic for unique skins in the mythic shop each year.
You'll also be able to pick up older prestige skins, so if you forgot to play during a specific time period and missed your chance to pick up a prestige Arcade Caitlyn, you'll be able to get it through the mythic shop which will have a monthly rotation of prestige skins available.
What Are Mythic Chromas?
With the introduction of the new Mythic Shop, Riot added new mythic content. One of the newest additions is known as a mythic chroma, which is a new chroma for either a Seasonal Mythic skin or a previously released legendary skin. These Chromas have a new color scheme for the champion, as well as their VFX.
Mythic Chromas will cost 40 Mythic Essence. In 2023, more skins will be getting Mythic Chromas as well as new skins in the mythic shop for you to enjoy and pick up.