After Soul Fighter we're getting some other cool new skins for a few Champions that truly deserve new LoL skins. So, let's go over everything we know about the upcoming Immortal Journey skins in League of Legends.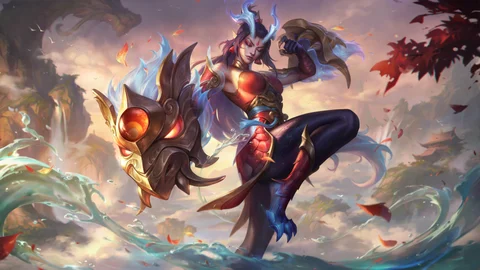 Riot just revealed their upcoming skins for LoL Patch 13.16 and we're getting a brand-new skin line by the name of Immortal Journey. This skin features some forgotten Champions, while also including a few pretty popular picks, making it an exciting mix of characters.
These skins are pretty unique with beautiful gold undertones which makes them stand out from other ones, especially after we just received the fighting-game inspired Soul Fighter skins. So, is your favorite Champions getting a brand-new skin from Riot this time around or are you still waiting for a new skin?
Which LoL Champions Will Get Immortal Journey Skins?
First of all, we have to look at the Champions getting skins to know if it's even worth getting our wallets out. In total there are six champions getting skins, with one of them even receiving a prestige skin from Riot.
With an Amazon Prime membership you can get RP every month to afford one of these puppies below:
Immortal Journey Soraka
Immortal Journey Shyvana
Immortal Journey Zed
Immortal Journey Zeri
Immortal Journey Kayle
Immortal Journey Sona

Immortal Journey Sona Prestige Edition
Shyvana is finally getting a new skin and while it isn't a legendary, it is a very fun skin that gives both her forms a unique new look. Zed, Sona and Zeri are also pretty popular in the skins department and these looks are great for them as well.
Immortal Journey Legendary Skin
Check out the Logitech Hero K/DA High Performance Gaming Mouse for quality and style!
Soraka will be getting a legendary skin. This is her third legendary skin, which had some players upset, since they felt that Shyvana or Zeri should have received their first – but let's be real Zeri doesn't really fit all too well into this magical world with her gun's, eh?
There had been similar complaints earlier this year when Yasuo received his second prestige skin with the Inkshadow skin line, with many players feeling like his brother Yone should have gotten the prestige. Can't ever satisfy everyone in the community, right?
How Much Will The New Immortal Journey Skins Cost?

The Soraka skin, which is the legendary skin, should be 1820 RP, while the rest of the skins are going to be Epic skins priced at the usual 1350 RP. Sona's prestige skin should be available in the Mythic Shop for Mythic Essence to purchase.
You will likely need 125 Mythic Essence to be able to pick up the Sona prestige skin from the shop, similar to skins like the Broken Covenant Miss Fortune skin, which also wasn't part of an event.
When Will The New Immortal Journey Skins Release?
The Immortal Journey skins are going to be releasing with LoL Patch 13.16, which is set to come out Wednesday, August 16, 2023. The skins will be available a day after the patch releases on August 17, 2023.
Then you can finally get your third Soraka legendary skin. She truly deserves it though... but I am biased as a Soraka main.
Find your serenity on the path to enlightenment Immortal Journey Soraka, Shyvana, Zed, Zeri, Kayle and Sona are now available on PBE! pic.twitter.com/YL97fS5XwV

— League of Legends (@LeagueOfLegends) August 1, 2023
This article contains affiliate links which are marked with [shopping symbol]. These links can provide a small commission for us under certain conditions. This never affects the products price for you.