The North American League of Legends esports scene is in rough waters at the moment. There are talks about postponing or even cancelling the 2022 LCS Summer Split, but there is one big silver lining on the horizon – get ready for an All-Star matchup between Delta Fox and Disguised Esports!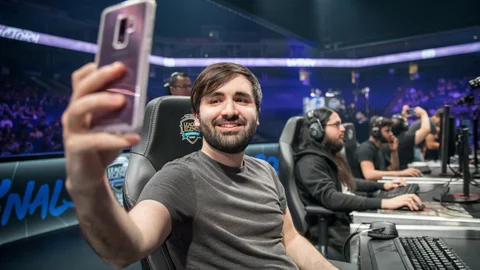 In case you missed it – the North American League of Legends esports scene isn't doing great at the moment. Over the course of the last months, two of the biggest, most prestigious teams in LCS history have either folded, or announced their departure. Now the walkout, which was initiated by the LCS Player Association, is looming over the league.
Not much to look forward to if you're an LCS fan, right? Well, think again! Even though there are a lot of challenges ahead, a group of dedicated people has come together to bring the fun back to North American League of Legends. Get ready for an epic show match between Delta Fox and Disguised Esports!
Delta Fox vs. Disguised Toast Esports Show Match
NA might not be the most competitive region when it comes to international League of Legends tournament, but when it comes to streamers and League of Legends personalities, they're unbeaten. Tyler1 is the biggest name overall, but there are a lot more you should know about, especially the Delta Fox roster!
Delta Fox was originally founded as a practice squad for the former LCS team Echo Fox. The interesting thing about Delta Fox is the fact that it was basically a streamer All-Star team. Up on top lane you had Marcus "Dyrus" Hill, with William "scarra" Li roaming the jungle, Joedat "Voyboy" Esfahani in mid, and Michael "imaqtpie" Santana and Danny "Shiphtur" Le making up the bot lane.
If you're looking for the perfect gaming keyboard, look no further: The Logitech G Pro Keyboard has everything you'd ever need.
Echo Fox obviously doesn't exist anymore, and Delta Fox didn't last either. Still, over their short tenure together these five NA legends cemented their legacy. Delta Fox will always be a household name in the League of Legends community, and when NA needed them most – they returned!
June 1, 2023 should've been the day on which the 2023 LCS Summer Split was supposed to start, but due to the LCSPA-initiated walkout it has been postponed two weeks. But worry not, LCS fans, Disguised Esports has you covered!
The esports team founded by Jeremy "Disguised Toast" Wang announced on Twitter that they will be playing a show match against Delta Fox.
DONT WORRY LCS FANS - WE GOT YOU COVERED FOR TOMORROW

DSG vs The Best NA Dream Team (Delta Fox)

new DSG roster
vs@scarra @Imaqtpielol @Shiphtur @Dyrus @Voyboy

June 1st - 2PM PST

Do NOT miss this epic showdown tmr pic.twitter.com/Qe1fOunxuM

— DSG Toast (@DisguisedToast) May 31, 2023
Safe to say we're HYPED to see this match kick off! The community's feedback has been great as well. The Esports Writer summed up perfectly what many of us are thinking:
This is like Michael Jordan and the Bulls coming out of retirement
Only thing left to know is: Where and when can we witness this legendary show match? The game between DSG and Delta Fox will take place on June 1, 2023 at 2PM PST or 11PM CEST. Tune in on the DisguisedToast Twitch channel and enjoy some top-level NA League of Legends entertainment!
Let's hope this marks a turnaround for how things are going for North America and the LCS. There's no doubt there is still a lot of potential left in the esports scene, and Disguised Toast Esports might be a great role model for a revamp!
Take some time away from all this LCS drama and learn more about the world of League of Legends with: Realms of Runeterra.
This article contains affiliate links which are marked with [shopping symbol]. These links can provide a small commission for us under certain conditions. This never affects the products price for you.