Tyler1 is the most famous (and infamous) League of Legends streamer. Still in his everlasting struggle to contain his intense feelings towards LoL, he has found great success in the industry. How much has Tyler1 earned over the course of his career as streamer and entertainer?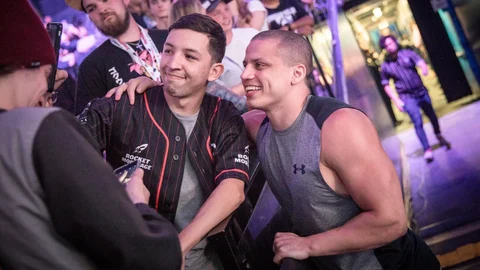 If you've never heard of Tyler1, you've either been living under a rock for the past years, or you've just picked up League of Legends. In both cases, I'm very sorry for you.
Tyler Steinbach, better known by his online name Tyler1, is one of the most successful League of Legends content creators of all time. This poses one question: How much has he earned over the course of his streaming career?
We are going to dive into research and put up some estimates about Tyler1's fortunes. There's no doubt that "The Most Toxic Player in North America" is one of the top earners among LoL content creators. As we all know, the best is just enough for him.
If you're looking for the perfect gaming keyboard, look no further: The Logitech G Pro Keyboard has everything you'd ever need.
Tyler1 Net Worth: Beginning Of His Career
Tyler's streaming career really kicked off during 2016, although he had been streaming for some time before that. His surge in popularity came around April 2016 when he started to preach about being #Reformed, allegedly leaving his toxic behavior behind him.
This toxic behavior is what drew many of his followers initially towards him. Even more came to see if the #Reformed Tyler1 could keep his promise and curb his in-game hatred.
Riot Games didn't take any of that, though. At the end of April 2016 the developers announced that Tyler1 would be permanently banned from owning a League of Legends account.
This didn't stop Tyler1 though – mainly because he's built different. During his permaban on League, he branched out into other games and managed to further grow his community.
Almost one-and-a-half years later, his ban was lifted by Riot Games, which paved the way towards his current fame among the League of Legends community.
Tyler 1 Net Worth: Money Earned Livestreaming
By now, you should know that Tyler1 is a brand name in itself. Even if you've never played a game of League of Legends in your life (lucky you!) – chances are high you've heard of him. On Twitch, he has racked up a total of 5.2 million followers, and even his YouTube channel shows an impressive 2.75 million subscribers.
Fair to say that a guy that has set a deadlift PR of 585 lbs is all about breaking records. Current estimates based on Social Blade statistics and his Twitch subscribers set his monthly income through his streaming outlets at about $50,000 per month.
Tyler1 Twitch Payout Leak

In October 2021, confidential Twitch documents listing the streaming site's top earners have been published as a result of leaks. Ranked at number 15 is no one else but the best Draven player of all time, Tyler1. Theses leaks show earnings of almost $2,5 million between August 2019 and October 2021.
This would put his monthly average at around $95,000 during that time span.
Tyler 1 Net Worth: T1 Partnership And Other Sponsorships

Another thing that garnered a lot of attention over the last few years was Tyler1's partnership with South Korean esports brand T1. The team of legendary esports player Lee "Faker" Sang-hyeok signed on the American streamer in October 2020. He stayed with T1 until early 2022.
Other than that, Tyler1 has always kept himself very limited when it comes to brand deals. Even though he's #REFORMED, he doesn't want to rely on brand money and potentially limit himself in his expressions while playing the game. As of now, we're not aware of any external brand deals being promoted on his channels.
Tyler1 Net Worth: Merch Sales
Tyler1 shows off a great entrepreneurial mindset with his own merch store promoting a multitude of clothing lines and accessories. Now, we obviously don't have insight into the finances of Tyler1's merch store, but we can be sure it adds another $20-50,000 in profits per month for him.
The variety in his merch store is pretty appealing to fans that want to support their favorite streamer. The designs look really well-made in general, but I would advise against running around in a "hehe xd" tank top. At least as long as you're not looking to be booked in the nearest mental hospital.
I'm only joking Tyler, don't come after me please.
Tyler1 Income and Net Worth Summary
Judging by what we know about Tyler1's finances through estimates and the October 2021 Twitch leaks, we expect his monthly income to be around $130,000-$150,000 per month.
He has been one of the most popular League streamers, as well as one of the most popular streamers overall for almost eight years now. Therefore, we estimate his net worth to be in the range of $6-8 million as of 2023.
Whether you like him or not – Tyler1 has been an absolute icon of the industry and the good news for his fans is – there is no end in sight. The "Most REFORMED Player NA" continues to thrive and entertain a huge amount of followers.

This article contains affiliate links which are marked with [shopping symbol]. These links can provide a small commission for us under certain conditions. This never affects the products price for you.