Tyler1 is still trying to reach Challenger on the EUW server, but he has not had the easiest of times. He's now started to put the blame on others who have not even been part of his solo queue climb.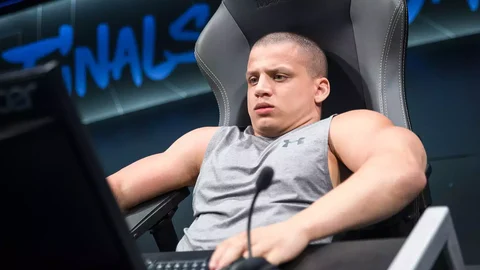 Tyler "Tyler1" Steinkamp has been in Europe for a little over two weeks already and is still desperately trying to reach the highest tier in League of Legends. He's previously managed to reach Challenger in every single position on the NA server and has attempted to make his mark on Korean solo queue as well last year.
He has been struggling though in recent times and has now gone to blame other streamers and content creators for the solo queue environment of EUW. He went as far as to single out popular content creator Simon "Thebausffs" Hofverberg.
LoL: Tyler1 Says Thebausffs To Blame For EUW Lack Of Macro
Tyler1 has been having a hard time climbing on the EUW server. He has been stuck in Masters for quite some time with no way of getting out. Of course, being a big-name streamer like Tyler1 also puts a target on one's back and makes the climb to the highest tier harder than for regular players, since they will encounter inters and griefers on a more regular basis.
Tyler1 expresses disdain for Thebausffs's playstyle and blames EUW's bad macro on it
by u/Heree_WeGo in leagueoflegends
With a bad run and a massive losing streak behind him, Tyler1 lost it on stream the other day, stating that the region had no understanding of macro play, blaming popular content creators like Thebausffs on the region's lack of game understanding.

[Thebausffs] is the reason intentional feeders don't get banned on EUW. [...] That unique, cringe playstyle. Nice bro. He is the reason that that person that I played against didn't get banned, because Riot EUW doesn't ban intentional feeders, because of that moron.
To be at the best of your game you will need the best equipment possible. Something like the MSI Creator Gaming Laptop is a great choice!
The clip went viral on Reddit, with some players agreeing with Tyler1, stating that low ELO players who try to emulate Thebausffs do ruin the games for others, since they won't know how to properly play, emulating "the inting part but not really apply[ing] pressure."
What do you guys think of the new skins and the champion choices?
Others also stated that Thebausffs often just plays the way he does on stream, but other content creators and former pros like Broxah have explained that when he isn't streaming he doesn't always use the insane tactics he's known for.
Others called out Tyler1, realizing that EUW is slowly breaking the streamer down game-by-game. When Tyler1 went to Korea to reach Challenger, he also made a point of calling the players out, stating they have no macro play, which has some people confused, wondering whether the only server with macro play, according to Tyelr1, is NA.
Some players also find it ironic that Tyler1 is preaching about toxicity, when it seems like Tyler has also introduced his fair share of toxic behavior into the game. It seems like he is just done and cannot handle the current state of solo queue.
This article contains affiliate links which are marked with [shopping symbol]. These links can provide a small commission for us under certain conditions. This never affects the products price for you.