LoL Patch 13.11 is already looking juicy with a bunch of champion updates, as well as some brand-new skins that fans have been awaiting for a long time.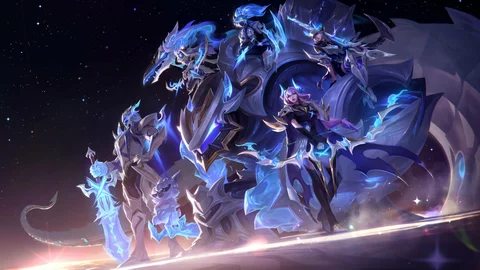 LoL Patch 13.11 is going to be pretty interesting. Of course, we're going to have a lot of balance changes after the midseason update in LoL Patch 13.10, but Riot is also going to release two champion Mid-Scope Updates along with the long-awaited DRX World Championship skins.
So, let's go over all the buffs and nerfs and look into the midseason and the effects it had on our favorite League of Legends champions.
LoL Patch 13.11: Champion Balance Changes
Champion Buffs
Some champions will be getting buffed this patch after they suffered the most from the recent midseason update to items. Ivern's Mid-Scope has also been turned into a mere buff as Riot contemplates what they'll do with the champion.
Rek'Sai
Passive - Fury of the Xer'Sai
Max Heal: 20-190 --> 125 + 2%-12% max HP
Q - Queen's Wrath/Prey Seeker
Burrowed Q Reveal duration: 2.5s --> 5s
Unburrowed Q duration: 5 --> 3s
Unburrowed Q cooldown: 4 --> 4-2s
W - Burrow
Tremor Sense tick rate: 1.5s --> 1s
Azir
Q - Conquering Sands
Cooldown: 14-6s --> 12-6s
W - Arise!
50-118 by rank + 0-92 by level + 55%AP --> 60%AP
Summon Range: 500 --> 525
If you want to master Azir, then you need the right equipment. Try out the Perixx Mechanical Keyboard! It's amazing and won't cost you an arm and a leg!
Kalista
Base Stats
Base Health: 574 --> 600
Health Regen: 3.75 --> 4
Health Regen Growth: .55 --> .75
Attack Damage: 66 --> 61
Attacke Damage Growth: 3.75 --> 3.25
P - Martial Poise
Basic attacks no longer miss if a target leaves vision
Damage dealt on-hit: 90% --> 100% total AD
Functional base AD is within 1-2% at all levels
Q - Pierce
Total AD Ratio: 100% --> 105%
E - Rend
Physical Damage per extra stack: 10-34 --> 8-24
Total AD Ratio per extra stack: 32.2%-40.6% --> 25%-45%
Cooldown: 14-8 --> 10-8
Akali
Q - Five Point Strike
Damage: 30/55/80/105/130 --> 40/65/90/115/140
LoL Patch 13.11: Will These Buffs Be Able To Save Kalista?
Ivern
Passive - Friend of the Forest
No longer shares buffs with teammates as this will be global for all junglers in some form
Q - Rootcaller
Range: 1100 --> 1150 units
Ivern now dashes into his maximum range when not recasting. Upon recast, he will dash directly onto the enemy
W - Brushmaker
[W-P] Nearby allies' attacks now also gain an additional 5/7.5/10/12.5/15 (+10% AP) magic damage for 1.5 seconds
Ammo recharge time reduced 40/36/32/28/24 --> 20 flat seconds
Brush duration increased 30 --> 45 seconds
Brush will now disappear if Ivern's team loses vision inside of them
E - Triggerseed
If the shield detonates and no enemy champions are hit, the ally is shielded again for 2 more seconds
Renekton
E - Slice/Dice
Cooldown: 18/17/16/15/14s --> 16/15/14/13/12s
R - Dominus
Cooldown: 120s flat --> 120/100/80s
Magic Damage per Tick: 25/50/75 --> 30/60/90 (per second 50/100/150 --> 60/120/180)
Twisted Fate
W - Pick a Card
Cooldown: 8/7.5/7/6.5/6s --> 6s flat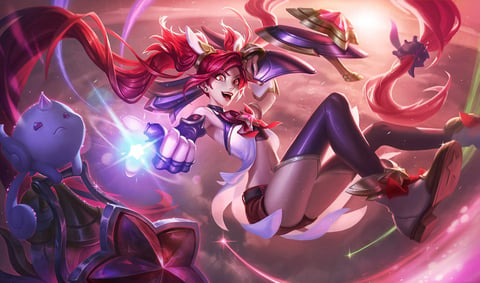 Champion Nerfs
While there are quite a few champion buffs, there are also going to be a few champion nerfs. Jinx, after how prominent she has been throughout MSI, as well as in solo queue is finally going to be getting some more nerfs this patch, but will it be enough?
Aurelion Sol
E - Singularity
Mana Cost: 60/70/80/90/100 --> 80/85/90/95/100
AP Ratio per Tick: 6.25% --> 5% (per second 25% >>> 20%)
Amumu
W - Despair
Damage per Tick: 10 --> 7 (per second 20 >>> 14)
Aphelios
Passive - Hitman and the Seer
AD Rank Up: 5/10/15/20/25/30 --> 4.5/9/13.5/18/22.5/27
Jinx
Base Stats:
Attack Speed per Level: 1.36% --> 1%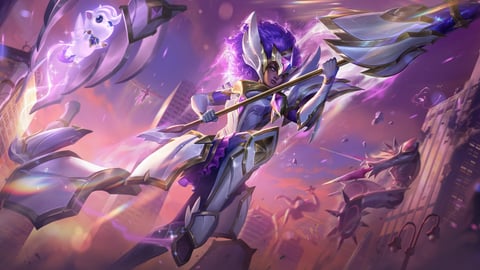 Rell Mid-Scope Update To Be Released
Riot is going to release Rell's Mid-Scope Update in this League of Legends patch. Riot wanted to make her a much better champion that can differentiate herself from the other CC, engage support champions out there. Will these changes to her kit be able to make her stand above the rest?
Base Stats
Her attack speed has been upgraded, but some of her other stats had to be lowered due to some changes in her kit, which we will get into further down!
Attack Speed: 0.55 >>> 0.625
Attack Speed per Level: 2% >>> 1.5%
Armor: 32 + 4.2/level >>> 32 + 3/level
Magic Resist: 32 + 2.05/level >>> 32 + 1/level
Movespeed: 335 >>> 330
Get the HyperX Quad Cast microphone so you can let your duo know when you're going to jump in with Rell!
Passive - Break the Mold
She can now stack her passive on every ability. This means even her ultimate is going to be able to give her stacks. If she gains enough stacks she will be one of the best support champions in the game.

Armor/MR shred: 10% >>> 3%
[NEW] Armor/Magic Resist shred stacks up to 5 per target
[NEW] All abilities also apply a stack of her passive (W and R's entire AoE)
Minimum steal from 5-12 based on level >>> 2.5-5 based on level
Minion Steal from 0.5-2 based on level >>> 0.25-1 based on level
[NEW] Rell keeps resists for the full duration of the buff, even if the target dies
[REMOVED] No longer deal bonus magic damage on hit
[REMOVED] Hitting a new target no longer refreshes the duration on all targets
Q - Shattering Strike
With her new Q she can reliably CC her enemies. Either you utilize the shield break on big tanks, or hop into the backline by combining her Q with W to CC squishy backline targets.

[NEW] Now stuns all targets for 0.75 seconds
[NEW] Applies passive and full damage to all targets
[REMOVED] Heal on self and ally
Range: 685 in front of Rell, 150 behind >>> 520 in front of Rell, 220 behind
Cooldown: 9/8/7/6/5 >>> 11/10.5/10/9.5/9
Damage: 70/115/160/205/250 >>> 60/90/130/165/200
Cast Time: 0.35s >>> 0.5s
[NEW] Deals 250% damage to jungle camps
Happy Rell Midscope PBE day everyone! As promised, here's the full changelist with some annotations explaining the reasoning.

Don't worry too much about the specific numbers, we're still getting her fine tuned. Let us know what you think of the update! pic.twitter.com/ViUKR5dpy9

— Stephen Auker (@RiotRaptorr) May 16, 2023
W - Feromancy: Crash Down/Mount Up
These changes to her W will improve her dismounted form greatly. Rell has been struggling when she dismounts due to her slow attack and movement speed, but these changes should help her in any fight and maker her dismounted form feel much better.
Mounted Buff
[REMOVED] Move speed while mounted
Dismounted Buff
[NEW] Increases Attack Speed: 15/20/25/30/35%
[NEW] Increases Attack Range: 75
Crash Down
Damage: 70/105/140/175/210 + 60%AP >>> 70/100/130/160/190 + 60%AP

Shield: 35/60/85/110/135 + 12% Max Health >>> 30/55/80/105/130 + 10% Max Health

Max Slide Distance: 375 >>> 320
AoE Radius: 200 >>> 180

With slide and radius, total area goes from 400 x 775 >>> 360 x 680 capsule

Jump Range: 500 >>> 400
Knockup Duration: 1s >>> 0.75s
Mount Up
Movement Speed: 25/30/35/40/45% >>> 30% Rapidly decaying over 1s
[NEW] Deals 250% Damage to jungle camps
This Fnatic Gaming headset is the perfect present for any League of Legends or esports fan!

E - Full Tilt
This is a brand-new ability with her old E being taken out of the game completely.
Thanks to the new E, Rell will truly be able to call the shots of any engage. She, and her allies, can storm into a fight, then use the rest of her kit to CC enemies or break their shields.
Passive - Mounted Alacrity: Rell gains 50 Move Speed while mounted, reduced in combat

Passive Movement Speed: 10/20/30/40/50 based on rank >>> 5/8/11/14/17/20/24/28/32/36/40/45/50 at levels 1-13
Active - Full Tilt: Rell and an ally charge, gaining ramping Move Speed up to 20% over 3 seconds, this is doubled to 40% toward enemies or your bonded ally
After 1 second Rell's next Attack or Shattering Strike explode in an area for max health magic damage
Active Movement Speed: 20% (40% vs enemies) >>> 15/17.5/20/22.5/25% based on rank (30/35/40/45/50% vs enemies)
Damage: 20/25/30/35/40 + 3% max health >>> 25/35/45/55/65 + 2/2.5/3/3.5/4% max health
R - Magnet Storm
Magnet Storm did not receive any changes in the Rell Mid-Scope Update. The only thing Riot added is that Rell can now apply her passive and gain a stack through it, which had not been part of the ability beforehand.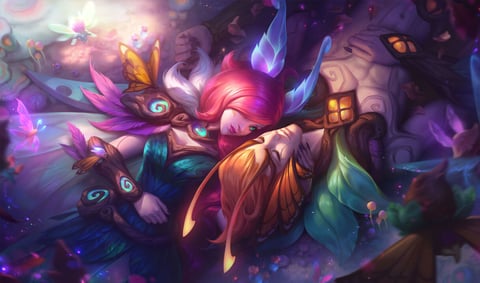 System Updates in LoL Patch 13.11

System Buffs
After the huge midseason overhaul in items, some were a bit weaker than others, which is why Riot is going to be buffing some of the newly adjusted items so they can compete with the others.
Kraken Slayer
Damage Type: Magic --> Physical
Damage: 20 + 60% Total AD + 45% AP --> 35-85 + 65% Total AD + 60% AP
Statikk Shiv
Energized Damage: 60-170 (lvl 7-18) + 50% AP --> 80-190 (lvl 7-18) + 50% AP
Minion Modifier: 220% --> 250%
Minion Damage: 132-374 --> 200-475
Navori Quickblades
Attack Damage: 60 --> 65
Ability Haste: 20 --> 15
Transcendence cooldown reduction: 12% --> 15%
Mythic Passive: 5 Ability Haste --> 5 Attack Damage
Build Path: Pickaxe --> BF Sword (Total price unchanged)
Duskblade of Draktharr
Nightstalker bonus damage: 0-15% (based on 0-80% target's missing HP) --> 0-20% (based on 0-70% target's missing HP)
Moonstone Renewer
Starlit Grace

Chain heal: 20-35% --> 20-40% (based on ally's level)
Single target heal: 15-25% --> 15-30% (based on ally's level)
System Nerfs
Some items have been way too good after the LoL Patch 13.10 dropped... the new support item Echoes of Helia has been insane, while Youmuu's Ghostblade has also been one of the strongest items in the game. So it's time to adjust their stats a little and bring them back to earth.
Galeforce
Active Damage: 481*350 + 250% Crit Chance --> 150-350 + 200% Crit Chance
Maximum Execution Damage: 160% --> 150%
Runaan's Hurricane
Stormrazor
Attack Damage: 55 --> 50
Energize Damage: 25 + 65% Total AD + 50% AP --> 15 + 60% Total AD + 50% AP (this is about 15% less damage from Energize)
Ardent Censer
Sanctify bonus attack speed: 15-30% (based on ally's level) --> 20% flat
Echoes of Helia
Soul Siphon:

Healing per shard scaling: 20-100 (based on ally's level 1-18) --> 20-100 (based on ally's level 6-18)
Damage per shard: 30-200 (based on ally's level 1-18) --> 30-180 (based on ally's level 6-18)
Youmuu's Ghostblade
Ability Haste: 20 --> 15
Haunt

Bonus lethality: 8-20 --> 3-12 (based on level)
Distance travelled per stack: 45 --> 55
LoL Pride in Patch 13.11
This League of Legends patch is also going to release on June 1, 2023. So, what a perfect time for Riot to start celebrating Pride Month, right? As with years prior, Riot is going to release unique Pride icons, as well as a unique profile header.
They've also already released three new emotes which will also be made available to celebrate pride and diversity in the month of June.
The pride icons will cost 1 Blue Essence in the shop and if you equip them the Pride header will automatically be on your profile. Of course, you can switch it to whatever you had it before as well.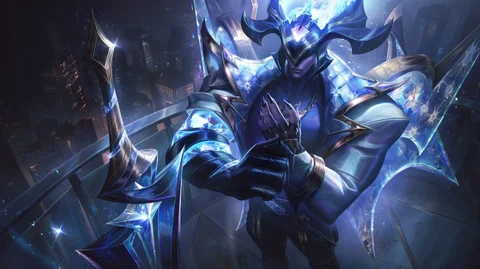 DRX World Championship Skins
Riot will also be releasing the DRX World Championship skins. This will be the first time that Riot is also releasing a prestige skin for the World Championship, with the Finals MVP getting a prestige version of their champion skin as well.
DRX Aatrox
DRX Aatrox Prestige
DRX Maokai
DRX Kindred
DRX Akali
DRX Caitlyn
DRX Ashe
Seven skins will be released on June 2, 2023 with the League of Legends Patch coming to live servers on June 1, 2023 with all the champion and item balance changes Riot has planned.
This article contains affiliate links which are marked with [shopping symbol]. These links can provide a small commission for us under certain conditions. This never affects the products price for you.