With the LCS fast approaching, let's look at what our expectations for its teams are: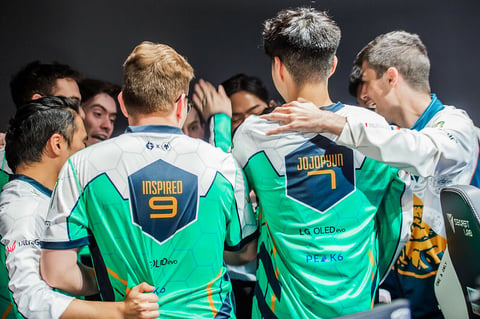 The LCS has had a tumultuous year, with worries about dwindling popularity feeding into rumors of lower budgets and less prestigious weekday slots for 2023. Yet despite it all, a lot of the LCS teams have managed to amass some very impressive rosters. If everything lines up, we might see some amazing League of Legends from North America. If not… well, the LCS does have a reputation as a place where impressive roster moves don't always pan out. Still, here is what we expect to see from the ten best NA teams.
The Bottom Three
10. TSM
9. Immortals
8. Golden Guardians
Let's start with the teams we expect a rather poor performance of. TSM, once an organization seen as the elite of the LCS, barely snuck into the playoffs where they teased a miracle run - but it was not to be. Now, with the loss of Mingyi "Spica" Lu, they look even weaker. While the team's academy boasts some familiar names, the fact they aren't on the main roster does not fill us with confidence.
Immortals, meanwhile, seem to have gone for a relatively low-budget revamp of the team that kept it top and jungler as they lost several bigger names in other positions. Their replacements are players we expect to be mid- or lower tier such as former GG mid Nicholas Antonio "Ablazeolive" Abbott and ex-TSM ADC Edward "Tactical" Ra.
Golden Guardians, meanwhile, have made two changes that should strengthen the roster,, recruiting former PSG Talon and FPX mid Kim "Gori" Tae-woo and Choi "huhi" Jae-hyun from 100Thieves. While we see this as an upgrade, it's only we only except to get so far.
Teams to Watch Out For
7. Counter-Logic Gaming
6. Dignitas
5. 100 Thieves
4. Cloud9
The next group are four teams that would be fighting for a place in the top 4, but there may be a lot of unexpected developments with how they go. First, Counter Logic Gaming - a team that had a good performance in the summer before stumbling in the playoffs. While a lot of teams upgraded their roster on paper, CLG stayed with the same team. This synergy can be helpful early on, but we don't expect them to be a powerhouse in the playoff either.

Dignitas, on the other hand, had a big makeover, keeping only the bot lane from last year. With the coming of Nicolaj "Jensen" Jensen and Lucas "Santorin" Larsen, Dig has a lot more firepower, but it remains to be seen if they and İrfan "Armut" Tükek can silence the naysayers after their troubles at Worlds.
100 Thieves have made some sweeping changes as well, reuniting fan favorites Søren "Bjergsen" Bjerg and Yiliang "Peter" "Doublelift" Peng and backing them up with the jungler who was a big part of 100T's recent success - Can "Closer" Çelik. This is a team that can do a lot better if everyone plays well together, but with Bjerg's performance last year and DL's long break we would be a bit more cautious.

Cloud9 is a team that performed well in the summer and, like CLG, mostly kept their roster - except they exchanged veteran Jensen for rising ERL star and former Vitality.Bee jungler Dimitri "Diplex" Ponomarev. While he has experience at the EU Masters tournament and the LFL championship, we're not sure he can quite step in Jensen's shoes just yet - which is why we're not sure C9 will be quite as successful this season.
Our Favorites
3. Team Liquid
2. FlyQuest
1. Evil Geniuses
In between imports and residency clauses, Team Liquid have gone for a full Korean-speaking roster. 2022 World Champion Hong "Pyosik" Chang-hyeon will join Park "Summit" Woo-tae and TL veteran Jo "CoreJJ" Yong-in to form the core of the team. After the failure of last year's superteam plans, TL is opting for another power move, and we think it will carry them far - though maybe not quite far enough.
And while TL's money and ambitions made their place in the top 3 teams likely, we had not expected to see FlyQuest in such a position. However, they had an amazing offseason, opting for a full rebuild and getting three Korean players, with veteran Jeong "Impact" Eon-young to help them acclimatize. This is a bold move and we are a bit wary of whether everything will go as it should but at this stage, this might well be the best roster in the LCS.
However, for our money, it's Evil Geniuses that will probably be the best team of the spring. The team kept the core that allowed it to go 15-3 in the summer split before fighting their way through the Worlds Play-in. They traded one top-tier top-laner - Impact - for another, Kim "Ssumday" Chan-ho. While a lot of teams have higher ceiling if everything clicks, for us, EG is the team to beat.
Read More:
Cloud9 and 100 Thieves will kick off the LCS 2023 Spring Split on Thursday, January 26th. Don't miss it!

This article contains affiliate links which are marked with [shopping symbol]. These links can provide a small commission for us under certain conditions. This never affects the products price for you.