TSM has announced their roster for the 2023 LCS season, but fans are scratching their heads wondering whether this isn't the Academy team roster.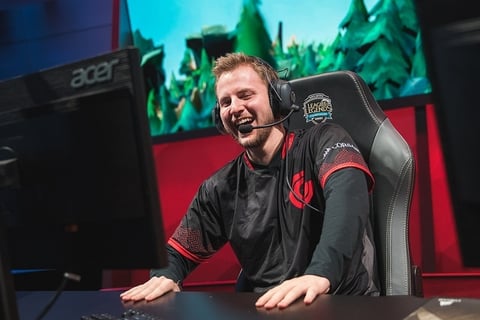 TSM have just announced their roster for the upcoming 2023 season and it isn't what fans expected. Maybe the fall of FTX, the main sponsor of the team really has impacted the team in terms of finances and thus this is the roster the team has come up with.
Heading into the 2023 LCS season with C9 remaining mostly intact, while TL looks to be building a strong Korean and local roster, this team from TSM doesn't look too impressive, but maybe TSM is going to be the surprise team of 2023 with these players.
TSM Roster 2023: Maple Remains As Cornerstone of Team
Ahead of the 2022 Summer Season, TSM signed none other than Huang "Maple" Yi-Tang in the mid lane. While the signing didn't help TSM make the 2022 League of Legends World Championship, he did help the team improve upon their awful spring split record.
With that in mind, TSM has built a roster around him to try and make an appearance at MSI and the League of Legends World Championship, though some of the decisions do have fans scratching their heads when looking at this roster.
Treat yourself and get the K/DA Headset from Logitech this Christmas!
Top Lane: Colin "Solo" Earnest
Jungle: Lee "Bugi" Seong-yeop

Mid Lane: Huang "Maple" Yi-Tang

Bot Lane: Toàn "Neo" Trần

Support: Jonathan "Chime" Pomponio

Okay, but the real question we are all asking ourselves: Where is Faker going?
Top laner Solo has quite a lot of experience in the LCS and NALCS. He spent some time playing in Academy before getting called up to the TSM roster over the summer. His experience will be crucial, but will it be enough for TSM to make the LCS playoffs?
Bot Laner Neo has been a part of the LCS academy program for a while, He played on various academy rosters and even on Dignitas' LCS team from December 2020 to July 2022 before moving back to Academy for the rest of the 2022 split.
Chime, the support, is another player that has split his time between the LCS and Academy in previous years. In The Summer of 2022 he was called up to play on the LCS TSM roster, having played for the academy team of Golden Guardians before.
The only completely new face is going to be none other than jungler Bugi, who has spent the last seasons in Latin America where he played on Furious Gaming and Estral Esports. He has also played in the LMS before with the Flash Wolves, which is also Maple's former team.
Now does this team look ready to take on the LCS? We will have to see. Three of the players have played together throughout the summer split, so if they continue to build their chemistry we could see some improvements. Time will tell whether this is a World Championship ready roster. Let's just hope TSM doesn't f*ck it up like the tend to do...
This article contains affiliate links which are marked with [shopping symbol]. These links can provide a small commission for us under certain conditions. This never affects the products price for you.