The Riot MMO is one of the most anticipated games in recent times. However, not everything seems to run as smoothly as the community would like it to. Directly after Ghostcrawler, another important keystone leaves the project, which rightly unsettles many players.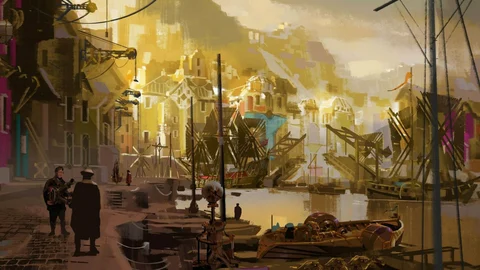 There is reason to worry about the further development of the Riot MMO. Another part of the crew announced his withdrawal from the project recently on his Twitter account.
Riot MMO Designers Leaving Left And Right
Just a few days ago, Greg "Ghostcrawler" Street, who worked as lead system designer for the Riot MMO Team, made the same decision, stating that he wants to follow his heart and launch his own game in the future.
Now Justin "Xenogenic" Hanson follows in his footsteps and leaves the project for a new adventure, without giving too much information. He worked at Riot as the Principal Game Designer for their upcoming MMO and is responsible for some champion reworks such as Nunu and Mordekaiser. Before joining the development team for the MMO in 2021, he worked for Riot's monetization team.
Why Did He Leave?
In his April 14 tweet, he expresses himself rather vaguely and gives significantly less information about his next steps than Ghostcrawler. He is talking about a "new adventure" ahead of him and that he enjoyed working on the Riot MMO a lot, titling its team as "absolutely world-class".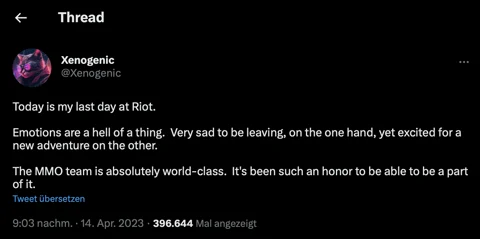 The community seems rather supportive for his decision and thanking him for his great work at Riot, bringing us some amazing reworks and working hard on the foundation for the MMO during the last years. Never thought LoL players could be that friendly …
You need to kill some time while waiting for the Riot MMO? Maybe try out this cool LoL puzzle in the meantime! Well, you will probably need more than just one …
Is The Riot MMO In Danger?
Understandably, many players are concerned, that with this withdrawal, the release of the game lies even further in the future than initially hoped. It is important to note, that it is not uncommon for game developers to move on fairly regularly to be able to participate in new projects. Usually, however, this happens after a game is released and not in the middle of development! Losing one of the pillars of visionary implementation certainly does not go unnoticed by the still nameless game.
Let's see where his journey takes him. It's not far-fetched to assume that he might even want to join Ghostcrawler's new project, since they have already worked together on Riot.
We will for sure keep you up-to-date on this one, pinky promise!
This article contains affiliate links which are marked with [shopping symbol]. These links can provide a small commission for us under certain conditions. This never affects the products price for you.