Psyonix are finally reintroducing the Rocket League Nissan Skyline, and everyone's pretty excited. One of the most beloved vehicles in Rocket League will make its comeback as part of the recently-announced Fast & Furious content.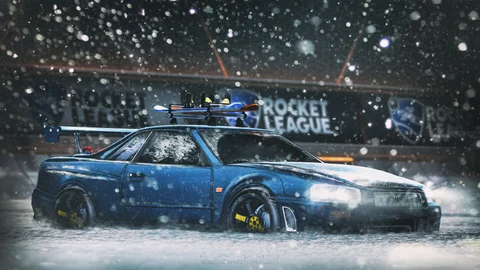 The Nissan Skyline has been missing from Rocket League for a while, and we're pretty sure that it will be a great addition to the current season once again. If you don't own it already, now's your chance to claim one of the most iconic cars out there.
That being said, the Nissan Skyline is also one of the most loved cars in Rocket League, and we're all super excited for it to be back in the item store once again... Here are the details!

Rocket League Nissan Skyline Hitbox Type Explained
The Rocket League Nissan Skyline features a Hybrid Hitbox, giving it the height and maneuverability to truly dominate in Rocket League. The Hybrid hitbox is the second tallest in Rocket league, with the Nissan Skyline sharing the same dimensions as cars like the Endo, Venom and X-Devil. Since the one of the most popular returning cars features the Hybrid Hitbox, you can also expect the same length as a Dominus, and a slightly larger width than a Breakout hitbox.
The Fast & Furious 4-Car Bundle is back in Rocket League! Yes, that means the Nissan Skyline has made it's return pic.twitter.com/8HMBcXKpC6

— Rocket League (@RocketLeague) November 9, 2022
Nissan Skyline Return – Release & Expiry Date
The Nissan Skyline came back to Rocket League on November 9, along with the two other Fast & Furious car bodies we've already seen in previous seasons. We are all pretty hyped for the return of one of Rocket League's most beloved vehicles, and couldn't be happier that the current season goes out with a bang. Make sure to grab the bundle while it's in the Rocket League Item Shop, but also check out the new Competitive Rewards recently revealed by Psyonix!