VCT NA Champions Stage 1 is all about who qualifies for the Challenger Playoff scene. What stood out most though was one of the fastest replacements and roster changes on the Valorant esports scene.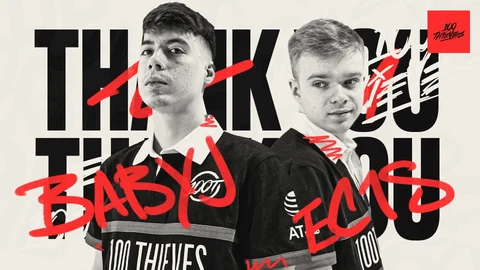 When VCT: NA Champions Stage 1 was announced, 100 Thieves got BabyJ and ec1s as new players to their roster. These new recruits were supposed to help the team qualify for Challenger Playoffs, but what came was one of the scariest matches we have seen in the Valorant esports scene... ever.
Why The Sudden 100 Thieves Roster Change?
The first match from the VCT Stage 1 that 100 Thieves had to overcome was against Cloud9. The match ultimately ended 2-0 in a win for Cloud9, but 100 Thieves still had chances to come back stronger.
Now, this is where the finishing move for the roster change came in: in the second-week match against The Guard, 100 Thieves lost 1-2 with one whopping round ending in a 0-13 win for The Guard. A bit later, the removal of BabyJ and ec1s was announced on the official 100 Thieves Twitter account. Here's what the founder and CEO of 100 Thieves Nadeshot had to say about the situation.
Regarding the @100T_Esports VALORANT roster changes announced moments ago. pic.twitter.com/VfP5mCWPgX

— 100T Nadeshot (@Nadeshot) February 21, 2022
The 0-13 round was a really bad moment, leading to a lot of shame for 100 Thieves. Everyone was shocked with the roster change, since this may be one of the fastest inclusions and exclusions of players on the esports scene. BabyJ and ec1s were only in the team for around a month.

What's Next For 100 Thieves In Valorant
Even with the shame that came after the match with The Guard, 100 Thieves didn't waste a second in going forwards while learning from their mistakes in the past. The moment they hit us with the removal of BabyJ and ec1s, they announced that their places will be filled in with new players for the season: bang and jcStani!
For our upcoming VALORANT matches, @bangzerra and @jcStani will be joining our team on loan. Welcome both to #100T!

We thank you for your continued support and look forward to competing this week. pic.twitter.com/LbGmRJrH8m

— 100 Thieves Esports (@100T_Esports) February 21, 2022
What's left for us now, is to see how 100 Thieves will perform going forward with these new players. My personal recommendation for 100 Thieves would be a good Sova player like AverageJonas, but that's up to them!
This roster change is one of the most surprising things we have seen in the Valorant esports scene. Haters may find this funny, fans may find this sad. But how will 100 Thieves perform in the following season... only time can tell.