If you're tired of instalockers, we have good news: Riot is testing a new Agent select pick system for Valorant.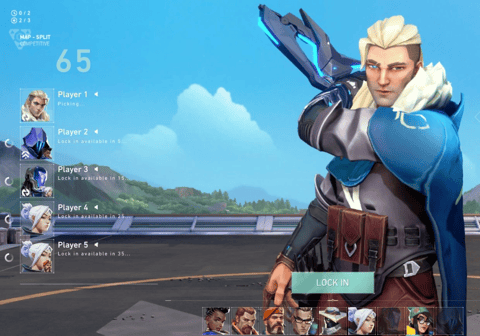 So yeah, instalockers. We all know these players, who take away our main Agent in the select lobby in milliseconds, and then you feel like they're recording a "how to not play this Agent" video guide during your ranked game. But it's alright, as Riot finally decided to introduce a new Agent selection system!
Cascade Agent Select in Valorant
It's now official that Riot is asking pro players and influencers for feedback about a new Cascade Agent Select system which would be the answer to widespread "instalocking".
Cascade Agent Select | #VALORANT

> Riot is currently experimenting with the Cascade system. Currently it is functioning as a 10 second interval for each player. Players can also choose a secondary agent as preference.

All is subject to change, as this is still in development. pic.twitter.com/ysQOkR0gDj

— ValorLeaks | Leaks & Info (@ValorLeaks) April 26, 2022
And it's actually pretty straightforward – each player has 10 seconds to pick an Agent. After 10 seconds, the next player will be able to choose their agent and so on. The selection order will probably be random, so that's the only pity. However, something that may compensate for this is the fact that you will be able to choose the secondary Agent you want to play.
This will surely minimize some toxicity in the game, or at least toxicity to the other player. It's a bit like "Riot taking the hit instead", but not really. It's okay for Riot to get a couple of "this system is so stupid lol omg im always the last player to pick" Reddit posts if that will help reduce the toxicity of the game.

Look, they don't read these posts anyway. Plus, Riot knows that all these players that post that kind of stuff will continue playing the game regardless, so they don't really lose anything. Most importantly, the environment in the lobby should be a bit more friendly, and that's nice.
When Will The Anti-Instalock Come To Valorant?
If Riot is asking for feedback just now, and they allow influencers to talk about it, we would say that they are initially planning to release it along with the Episode 5, which would be July 6. But honestly, it could also come to the game in the middle of this Act. One way or another, it's coming in more or less a month from now.