We have the best crossbow setup and loadout for Warzone 2.0 for you. The crossbow is once again very special, but cool.

MMRs in Warzone have always been a rather neglected weapon class. Semi-automatic rifles with less damage than snipers just aren't that viable... Still, individual Mcan be fun if you want to try something different.

Since Season 2, the Crossbow is also back in the game. It looks almost the same as it did in MW2019 and also works the same way. The weapon has good damage, is completely silent and, what is especially useful, you can pick up your used bolts again.
Of course, the crossbow isn't all that easy to use and is more of a sneaky fun weapon, but here's our best loadout.

How To Unlock The Crossbow In Warzone 2
Currently, the crossbow can only be unlocked in Warzone 2.0 and Modern Warfare 2 via completing the Path of the Ronin event. You must complete a total of seven challenges here by March 25, which are different for Warzone and MWII. However, it doesn't matter in which game you complete the challenges, so we advise doing it in Modern Warfare 2, as the challenges are much easier and faster to complete here. Of course you can also buy a bundle in the store, but that would be cheating...

If there is another way to unlock the crossbow after March 25, we will of course let you know.
Warzone 2.0: Crossbow Setup
This is our best Crossbow setup: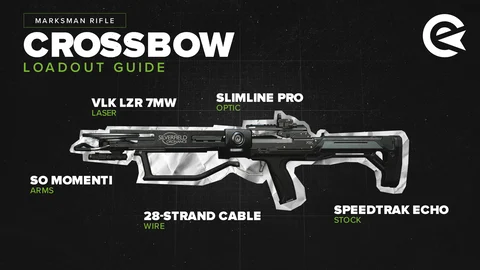 | | | |
| --- | --- | --- |
| Slot | Aufsatz | Freischaltung |
| Arms | SO Momenti | Crossbow to Level 9 |
| Laser | VLK LZR 7MW | STB 556 to Level 5 |
| Optic | Slimline Pro | Lachmann Sub to Level 11 |
| Stock | Speedtrak Echo | Crossbow to Level 16 |
| Wire | 28-Strand Cable | Crossbow to Level 3 |
With this setup, we increase the range and velocity of the bolts, but also the overall mobility of the crossbow. With the wire and arms we get more range and bolt velocity, which makes it easier for us to aim and also allows for easy hits from a greater distance. Laser and stock, on the other hand, increase the ADS speed and the sprint-to-fire speed, so we can react quickly.
If you prefer to keep your distance and play the Crossbow exclusively at long range, you should exchange the Slimline Pro optic for one with a higher magnification.
Warzone 2.0 Crossbow Loadout: Secondary Weapon, Perks & Equipment
Secondary Weapon: TAQ-56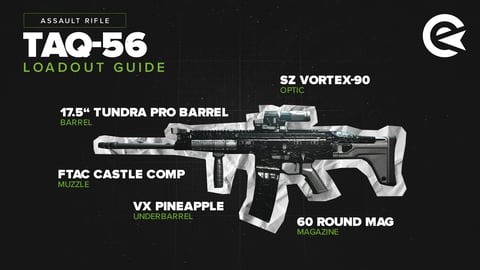 Even though the new ISO Hemlock and the RPK are currently the absolute meta, we go for the good old TAQ-56 as a secondary weapon. The RPK and Hemlock are both extremely strong long-range options, but are not very helpful in close- or even mid-range combat. Since the crossbow is not a good weapon for those distances either, we want a secondary weapon that is as versatile as possible. This is where the TAQ-56 comes in, which to this day is one of the best all-around weapons in our opinion and works well in any situation.

Perks (Base, Bonus & Ultimate)
Our choice of perks:

| | |
| --- | --- |
| Basie Perks | Bomb Squad / Overkill |
| Bonus Perk | Resupply |
| Ultimate Perk | High Alert |
Since we can finally choose our own perks again, we recommend Bomb Squad and Overkill as base perks. Bomb Squad reduces all damage from explosions and Overkill allows us to carry two primary weapons.
As a bonus perk, we opt for Resupply so that we never run out of flash grenades. While for the Ultimate perk we like going for High Alert, which is especially useful when footstep audio is still so low.
Equipment (Lethal & Tactical)
The best combo:
| | |
| --- | --- |
| Lethal | Semtex |
| Tactical | Flash Grenade |
The recent Season 2 patch introduced a handful of much needed nerfs, but Flashes are still absurdly strong. With these puppies you can blind a whole squad and make outplays like it's 2020. Semtex is less powerful nowadays, but we still think it's a fairly good option for all players, and it's easy to use effectively.
That's about it for the Crossbow. If you're looking for something a little more reliable, try one of the best battle rifles in Warzone 2.0.
We're still not sure if weapons like this will transfer over to the unexpected 2023 CoD:
This article contains affiliate links which are marked with [shopping symbol]. These links can provide a small commission for us under certain conditions. This never affects the products price for you.