We have the best Fennec 45 setup and loadout for Warzone 2 below. SMGs have a definite role in Warzone 2. 0, and the Fennec is undoubtedly the strongest among them.


On the new Warzone 2.0 map, Al Mazrah, long-range assault rifles or good LMGs are currently the most popular weapons. But for short-range you still need an SMG, and the Fennec 45 is undoubtedly the strongest right now as the TTK is ridiculous. You can find the best attachment setup below.

Warzone 2 Fennec 45 Attachment Setup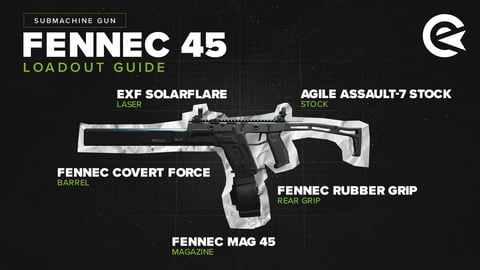 Slot
Attachment
Unlock Path
Tuning
Barrel
Fennec Covert Force
Fennec 45 to Level 20
Aim Walking Speed (-0.5lb)/

Demage Range Max (+0.40in)

Laser
EXF Solarflare
Kastov 762 to Level 6

Default

Stock
Agile Assault-7
VEL 46 to Level 2
Aim Down Sight Max (-4.00 oz) /
Aim Walking Speed Max (-2.40 in)
Rear Grip
Fennec Rubber Grip

Fennec 45 to Level 21

Aim Down Sight Max (-1.00 oz) /
Sprint To Fire Speed Max (-0.45 in)
Magazine
Fennec Mag 45
Fennec 45 to Level 15

Default
The Fennec's damage and bullet velocity are outstanding for an SMG. But we can improve the recoil control and range with attachments. While the magazine size of only 45 shots is a bit small, it should be sufficient for most situations in Warzone.

Warzone 2 Fennec 45 Loadout: Secondary, Perks & Equipment
Secondary: M13B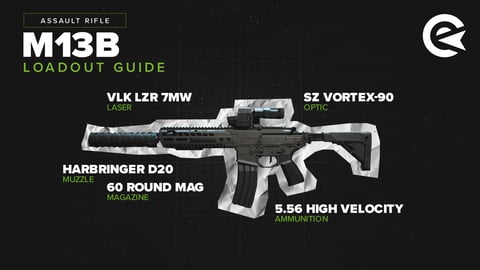 For a secondary weapon, we're bound to need a long-range weapon. We chose the M13B in this case. Above all, it has almost no recoil. That said, you do need more bullets than other weapons at range, but it's just much easier to hit.
Perks (Base, Bonus & Ultimate)
Since we can no longer choose our own perks in Warzone 2.0, we have to choose one of the pre-made perk packages. Here is the best perk package in Warzone right now:
| | |
| --- | --- |
| Perk Package | Recon |
| Base Perk | Tracker, Double Time |
| Bonus Perk | Focus |
| Ultimate Perk | Birdseye |
Birdseye is like having a near-permanent Advanced UAV, which makes it by far the most valuable Ultimate Perk. And Recon is the only package that contains Birdseye, so it's a must-pick. Alongside Birdseye, you get Focus, which is good because it gives you a universal buff to stability while ADS'd. While both Tracker and Double Time are also great in Warzone.
Equipment (Lethal, Tactical)
This is the equipment of our choice:

| | |
| --- | --- |
| Lethal | Semtex |
| Tactical | Stun Grenade |
Stun grenades are usually strong and can be used in any loadout. You can use them to stun and take down enemies or use them to clear corners. Semtex on the other hand is good for destroying vehicles and hitting enemies. And nothing feels as good as sticking someone with Semtex.

Try the Fennec 45, maybe it's the weapon you missed in your loadout. Here we have the best weapons in MW2 for you.