Adin Ross has made a statement in which he expresses his desire for Andrew Tate's accuser to be incarcerated by saying, "send that person to jail."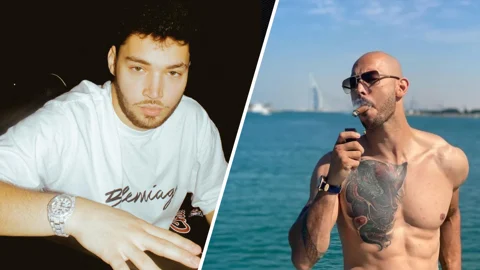 Adin Ross and Andrew Tate are both internet personalities who have gained significant followings on social media platforms like Twitch and YouTube. Adin is a content creator who is best known for his live streaming of video games and other online activities, while Andrew Tate is a former kickboxer and fitness guy who has also gained fame as a social media influencer.
The two have a close friendship and have collaborated on various projects in the past, including Andrew Tate's podcast, where Adin was a regular guest. However, the friendship has recently been in the spotlight due to allegations made against Andrew Tate. He promoted violence against women and was accused by several women on social media.
Tate is accused of various acts of misconduct, including physical abuse, and the controversy has since led to a split between the two friends, with Adin expressing his doubts about the accusations made against Tate.
The situation has generated significant attention and discussion online, with many people taking sides and expressing their opinions on the matter. Despite the controversy, both Adin Ross and Andrew Tate continue to maintain their presence on social media and the internet, where they have large and dedicated followings.
On February 16, Adin Ross resumed streaming on Twitch after announcing his move to Kick.

During his stream, he discussed various topics, including his experience on Kick and his friend Andrew Tate.

In particular, he expressed his disbelief that Tate is the true offender, referring to rumors that a woman has attempted to frame him.

Adin stated that the woman deserves to be sent to a Romanian prison, kept in solitary confinement, and confined. Although he denied being a cop or a lawyer, he continued to say "Send that person to jail."
It was apparent that the streamer was disappointed with the ongoing events surrounding the Tate brothers. As he accidentally knocked over some articles on his desk, he apologized to his audience and shifted the discussion to the potential features of Kick.