Now that Andrew Tate has access to his Twitter again, he used his new-found freedom to declare his plans to start a charity to protect men from false allegations.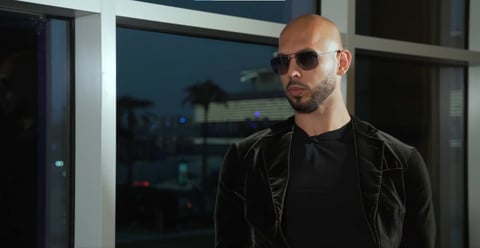 Ever since his imprisonment by the Romanian authorities on human trafficking charges, Andrew Tate was only able to interact with the public via e-mail and Twitter. Now, the former Kickboxing champion declares that he updated his will, to donate $100 million, to create a charity to protect men fro mfalse accusations.
Andrew Tate To Donate 100 Million To Start A Charity For Men
After his arrest in Romania, Andrew Tate's situation has been updated sporadically as the controversial influencer was allowed to access his e-mail and apparently Twitter account as well.
He used those platforms to inform his fans of his living conditions, as well as keep up his image by posting stuff like this:
Everything you ARE stems from what you've experienced.

It's an unstoppable force like gravity.

You cannot stop the programming but, YOU can CHOOSE what you hear and experience.

You can choose WHAT and WHO programs your mind.

— Andrew Tate (@Cobratate) February 5, 2023
On February 5, Tate announced that he updated his will from prison, as to donate $100 million to create a charity specifically for men that have wrongfully been accused of ... well anything I guess.
I updated my will from prison.

I will be donating 100 million to start a charity to protect men from false accusations.

— Andrew Tate (@Cobratate) February 5, 2023
This Tweet paints Tate as some kind of martyr, as his death would help all men that have to face false accusations.

On the other hand, it also paints a drastically different picture for his imprisonment as it makes it look, like he actually thinks he might die soon.
There were already protests to "Free Top G" before, but if his fans think he might actually die, this could escalate things.

The update to his will was accompanied by an ominous "I would never kill myself" post.

We know this phrase from the protests in Hong Kong, where people would say this to fellow protesters, so that the government couldn't declare their death in prison a suicide and make them disappear that way.
We don't know whether Tate's situation is as bad as this suggests, but it might rile up Tate fans even more, if his appeals keep getting rejected.
This article contains affiliate links which are marked with [shopping symbol]. These links can provide a small commission for us under certain conditions. This never affects the products price for you.