After being exposed for paying to watch deepfake videos involving other streamers, Twitch streamer Atrioc issued an apology.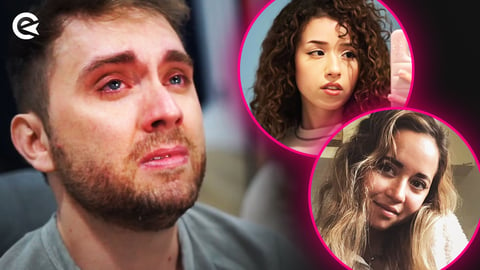 After briefly exposing that he had visited a deepfake website that included inappropriate deepfakes of female streamers, like Pokimane and Maya Higa, Atrioc issued an apology. Still, female streamers are upset while giving their perspective on the topic, and rightfully so.
The clip that apparently exposed the popular streamer was from his stream on January 26 showing his tabs, one of which was allegedly a deepfake website.
This website sells access to deepfake images and videos of female streamers, including the likes of Pokimane, Maya Higa and others, without their consent.
After the clip went viral, Atrioc went on his Twitch stream to address the situation and apologize.
Atrioc Apologizes After Paying For Deepfakes Of Female Streamers
"This is so embarrassing," Atrioc started off. He then went on to explain how he fell down a rabbit hole, through his keen interest in AI and AI art. This led to targeted advertisement, when he visited a regular p*rn website, ending with the current situation.
"I got morbidly curious and I clicked something. It's gross and I'm sorry. It's so embarrassing."


In his response, Atrioc ensures that this was not a "pattern of behavior" and that this was a one time thing.
"There is no excuse for it. I'm not defending it in any way, I think this whole category of stuff is wrong," he said.
The backlash Atrioc faced was even more intense, as he personally knew some of the streamers and their partners.
One example for this is the streamer QTCinderella, who Atrioc knows very well, as he is good friends with her boyfriend Ludwig.
Now, Atrioc released a TwitLonger apologizing to all the women involved, promising to take "concrete action to fight that wildfire and do everything [he] can do to combat the damage".
It is good to see that he is taking full responsibility, cutting back on content creation to help the women affected by this.
QTCinderella, Pokimane & Maya Respond: "Being seen 'naked' against your will should NOT BE A PART OF THIS JOB"
After the situation gained more and more traction online, QTCinderella first made a statement on Twitter and later went live, addressing the situation.
In her response, the female streamer also promises to sue the founder of the deepfake website, while opening up about her negative emotional impact the site had on her mental health.
The clip is really emotional, but you should definitely watch it to get a feeling for how this impacts the victims of such behavior:
This situation is another showcase for the struggles female content creators have to deal with, as they are constantly being sexualized, even if they don't want to, and harassed simply for being women.
This has a huge impact on female content creators, as you can see in CTCinderella's response video, and should not be taken lightly.
Another streamer impacted by this was Maya, who is well known for her animal focused broadcasts and NOT for doing sexual content. In her statement, she recalled a sexual assault experience she had to endure back in 2018, showing how deeply this can affect former victims of abuse!

February 1, 2023
Pokimane also issued a response and even though it was not as emotional as the previous reply by Maya, it perfectly explains the main issue with the situation.

stop sexualizing people without their consent.

that's it, that's the tweet.

— pokimane (@pokimanelol) January 31, 2023
Sadly, deepfakes fall into a legal grey area, which makes it hard to take legal measures against them.
As a victim of intimate image abuse, people can get support and help by contacting the Cyber Civil Rights Initiative.

You can do so on their website or by calling the CCRI intimate image abuse helpline at 1-844-878-2274. The helpline operates free of charge and is available 24/7.
This article contains affiliate links which are marked with [shopping symbol]. These links can provide a small commission for us under certain conditions. This never affects the products price for you.