Andrew Tate was just doing his usual shenanigans on Twitter, when he posted a video trying to ratio Greta Thunberg. But that video would lead to his arrest by the Romanian police forces.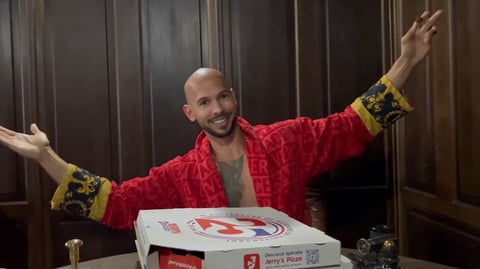 On December 29, Andrew Tate and his brother Tristan were reportedly arrested by the Romanian police on the suspicion of human trafficking. The allegations are serious, but the backstory behind his arrest is pretty funny.
Andrew Tate Doxxed By Pizza Box In Cringy Response Video To Greta Thunberg
It all started the good'ol way, with beef on Twitter. Greta Thunberg and Tate were going at it until a fatal miscalculation by Cobratate himself.
After Greta ratio'd him into the shadow realm, Tate responded with one of the cringiest videos on the internet. That in itself is not a crime, but it still led to Andrew Tate's arrest by the Romanian police.
BREAKING: Andrew Tate and brother Tristan arrested in Romania in human trafficking probe pic.twitter.com/b5eaZrErAb

— BNO News (@BNONews) December 29, 2022
The thing is, in his video, the controversial influencer snitched on himself. Apparently, the Romanian authorities needed proof that Tate was in the country and the video featured a pizza from a Romanian pizza chain, Jerry's Pizza.
The Romanian newspaper Gândul also reported that Andrew's clash with climate activist Greta Thunberg played a key part in the authorities confirming that both brothers were in the country at the same time.
So not only did he get ratio'd by Greta, his lame comeback video led to his arrest and afterward he even got finished by Greta via Twitter Mortal Kombat style!
this is what happens when you don't recycle your pizza boxes

— Greta Thunberg (@GretaThunberg) December 30, 2022
Talk about a bad day for the Cobratate.

Andrew Tate Accused of Human Trafficking, Rape & Organized Crime
As for the reason for his arrest, Tate was accused of human trafficking, rape, and organized crime relating to a "cam girl business", prosecutors told Reuters.
According to the Romanian daily newspaper Libertatea, Tate and his brother are suspected of forming an organized criminal group that is producing videos containing young girls.
Back in April 2022, Andrew Tate already faced allegations of human trafficking in Romania, however back then he stated that the issues arose from a swatting incident and that he was let go after a short investigation.
We will find out whether the allegations are true as the investigation progresses, and we will update this story as more details emerge.