Elon Musk is under fire again, after Twitter announced an exclusivity rule, banning users for promoting other social media profiles.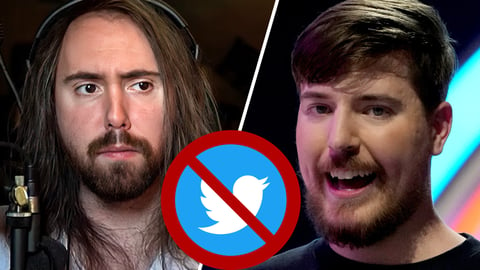 On December 18, the official Twitter Support account posted a tweet announcing that they are no longer going to allow users to promote certain social media on their accounts. This prompted a LOT of backlash from content creators like AsmongoldTV and MrBeast.
Asmongold and MrBeast Call Out Elon Musk
In their Tweet, the official Twitter accounts states that promotion of certain social media will no longer be tolerated... for free that is. Maybe this was supposed to set up another one of Musk's genius monetization ideas, so users would have to pay for a new feature that allows cross-platform promotion.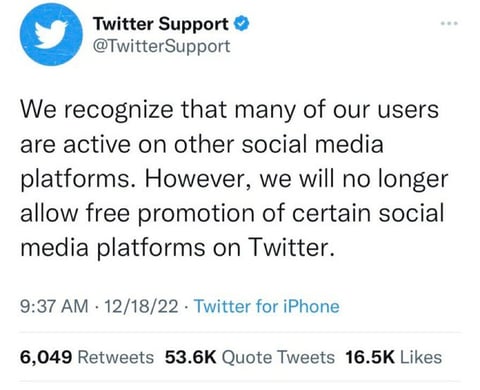 This lead to a lot of backlash from normal users and content creators alike, who call out Musk for his exclusionary practices.
The biggest content creator to do so was MrBeast. Jimmy reacted to a poll which Musk tweeted out, asking whether he should "step down as the head of Twitter", claiming he will abide by the results of this poll.
Want to get the most out of your time on Twitch, check out Fanbloc with its new way to interact with your favorite streamer!
MrBeast's reaction to this tweet was directly related to the new policy:
If you're going to keep doing stuff like this, yes. pic.twitter.com/cZ76VRxROo

— MrBeast (@MrBeast) December 19, 2022
Elon's poll also showed the users' dissatisfaction with the state of Twitter after Musk took over, as (at the moment of writing) 57.5% of people would like him to step down as the head of Twitter.
Another big content creator that spoke out against this new policy was Asmongold, who has mostly been pro-Elon so far. Well, apparently he is fed up with Good ol' Elon's shenanigans, as he called this new regulation "exclusionary and desperate".
As someone who's been mostly pro-Elon Twitter, this seems exclusionary and desperate

Directly antithetical to the interconnected nature and intrinsic beauty of the internet https://t.co/hbkRzMG0SE

— Zack (@Asmongold) December 18, 2022
In his Tweet, Asmon also provides a beautiful description of what makes the internet beautiful and interesting, which was kinda the point of Twitter in the first place as well. The interconnected nature was kind of Twitter's identity in the first place.
The huge amount of backlash apparently helped Elon realize that as well, as soon after, the Tweet was deleted.
Twitter Support Deletes Their Tweet Regarding Cross-Platform Promotion
As was the case with his purchase of Twitter, it seems like there is going to be a lot more back and forth, as the Tweet, that informed users of this new policy, was quickly deleted.
Twitter deleted? Problem solved? https://t.co/b5Kqnlwy7H

— Jake Lucky (@JakeSucky) December 19, 2022
This didn't really help alleviate people's concerns, but at least users can still go about their lives as they did previously, I guess?
Musk's decisions seem kind of arbitrary, the way he just jumps back and forth between things. Kind of reminds me of the time he fired most of his staff, just to ask them to come back like a week later or so.