Trainwreck's new streaming platform "Kick" is now in beta, we took a closer look at this creator-friendly site, but so far it looks like a huge rip-off, built with the intent of promoting gambling.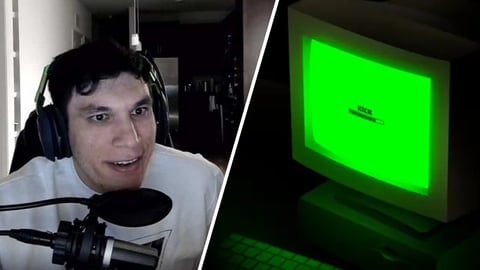 Twitch has got a new rival in the streaming business, as content creator Tyler 'Trainwreck' Niknam has now launched the beta for his new platform, "Kick".

Train markets Kick as a creator-friendly platform that will overtake Twitch and seems pretty convinced it will be a surefire success. If you look at the track-record for Twitch's competitors, though, things don't look that promising.
Mixer tried to do so, by buying two of Twitch's biggest streamers, but failed miserably and YouTube is kinda doing something similar, but it just doesn't seem too effective.

YouTube might actually have a chance at beating Twitch, but that is simply because they have a pretty much infinite pool of money to funnel into building their streamer content.

Adding to that is the fact, that moving to YouTube doesn't damage a streamer's growth nearly as much as a move to Mixer did. The reason for this is, that most streamers already cultivated a viewer base on YouTube through clips, etc. So YouTube is already an established competitor.
Right now, Kick doesn't have that. Right now, Kick is the project of one wealthy streamer, that made a lot of money through sponsored gambling streams and has to start from zero, just like Mixer.
Kick Explained: How Trainwreck Plans To Rival Twitch
The premise behind Kick, is to build a platform that benefits content creators more. It seems to stem from Trainwreck's unhappiness with the way Twitch handles their business.
In that regard, one of the improvements, he plans to implement on Kick, is the 95-5 split for subscriptions. Currently, Twitch is taking 50% of a streamers' subscription revenue, which is just insane and has been criticized a lot, as it is incomparable to other competitors.

You shouldn't get to take 50% of someone's income just for being a platform. In any other business model this is an insane notion. Twitch is taking more than any other major platform. If they don't change direction, the next streamer's rise to the top won't be on Twitch. pic.twitter.com/Oby4oFvIdd

— Devin (@DevinNash) October 1, 2022
Kick also offers a 100% split on Donations, called Kicks, for creators. So all the money that pops up in stream goes directly into the creator's piggy-bank.
So if you want to jump on the hype-train and become a streamer, you should first get a decent cam.
According to Train, there will also be an "innovative new exclusive creator program", where partners "won't have to rely on your subscriber count alone every month".

He plans to provide a steady income "based on hours watched and total viewers you stream to, with an option to be paid out on the same day"
This sounds too good to be sustainable, but apparently:
Kick will partner with the world's leading advertisers to generate cash flow [...] I believe that creating the best incentives for creators will lead the best creators to Kick, and the best creators will bring the best advertisers.
This sounds a little fishy. He seems a little over reliant on his incentives attracting enough streamers, to bring the advertisers. If that doesn't happen, his project will die.
Even if that happens, I don't really know if this would work out the way he needs it to.
Kick is really set on improving some aspects of Twitch, that were previously criticized, like the 50-50 subscriber split. Another point they want to improve on is transparency, as Train wants to make sure there are "no ambiguous bans".
The Most Famous Streamers That Got Banned on Twitch

View gallery
He was also really public about the topic of gambling and created specific rules around "ethical gambling".
Is Kick Going To Make It?
Right now, Kick is still a hatchling that just made it out of its shell, but it will be difficult to establish a position in the competitive livestreaming industry.

It will take some real big names, voluntarily jumping ship and joining Kick, for it to just barely work. We've witnessed, that overtaking Twitch is no easy feat. YouTube is trying to do so for a while now and managed to acquire some of the biggest streamers out there, and Kick would have to compete with both of these titans.

Train is asking fans and creators to give Kick a year to grow and mature, but it seems unlikely that it will be able to compete with the absolute giants of the industry, backed by humongous companies with sh*t tons of money!
Kick is a small start-up platform, that barely has the infrastructure to function properly. It has a long way to go before it can compete, and it's going to be hard to keep up the lofty ideals if it wants to reach the same size as its competitors.
Kick | A Streaming Platform By Gamblers For Gamblers

Well, I guess that's unless you have an Online Casino backing your streaming platform, that is. Apparently, Kick is backed by Stake, an offshore casino that has been sponsoring Train for a while now.
The popular internet detective Coffeezilla, who just loves exposing scams, uncovered this on Twitter. He also did a great job with addressing the crypto scam IShowSpeed was involved with and provided solid evidence for his claims.
Trainwreck's new platform is owned by- wait for it.... STAKE.

That's why Kick is paying insane creator splits, they're owned by an offshore casino lmao. And it's the reason train is moving, to continue the Stake cash cow.

I wonder why Train didn't tell people that https://t.co/3AJT9sJhOt

— Coffeezilla (@coffeebreak_YT) December 6, 2022
This makes a lot of sense, as Twitch has banned exactly the type of gambling you can find on Stake.com.

So if you can't promote your gambling on the biggest streaming platform out there, make the biggest streamer you got in your pocket build your very own, "streamer friendly" platform.
So far, Train hasn't responded to the backlash this revelation caused, but he is sure to defend his backers, the same way he already did when he got called out for gambling, and we all know how that ended.

This article contains affiliate links which are marked with [shopping symbol]. These links can provide a small commission for us under certain conditions. This never affects the products price for you.