During a recent broadcast, popular streamers HasanAbi and Trainwreckstv were having a heated discussion trying to sort out their differences.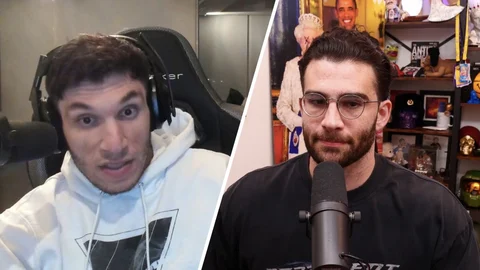 Popular Twitch streamers Hasan "HasanAbi" Piker and Tyler "Trainwreckstv" Niknam were having a heated discussion, talking about their differences, with xQc serving as some kind of mediator. During their heart-to-heart, Hasan blames Train for continuing to blame him for things without providing any evidence.
The two of them have been at each other's throats for a while now, with Train devaluing Hasan's charity activity and Hasan going off on him and his new streaming platform Kick.
Hasan & Trainwreck Clash in Heated Debate
These two were always bound to argue. Train became popular by calling female streamers "shameless" for leveraging sex appeal to reach higher views. While Hasan, a leftist political commentator, has repeatedly defended "hot tub streamers".
This exact distinction between the two came up in their discussion as well, when Hasan talked about the irony of Trainwrecks starting out, by talking about how much he hated "titty streamers", when his own platform now features actual porn. To make matters worse, Adin Ross, the new "poster boy" of Kick, went so far as to even show porn to his underage viewers!
The argument Hasan is making here is that while Train likes to hate about the moderation of content on Twitch, a certain amount of moderation is absolutely needed.
Probably the biggest topics of contention was that Train continuously blaming Hasan for things without providing any conclusive evidence. This became especially apparent, when one thing Train was upset at Hasan for turned out to be completely false.

In this clip, Train is referring to a situation, where multiple streamers "pushed onto the hate" he was getting for doing a lot of React content. He argued that Hasan was a part of this, when at that time, he had just started streaming and didn't even have any idea who Trainwreckstv even was.
During their discussion, the popular Canadian streamer xQc was also present, even though he seemed to be more of a mediator than an actual participant.

Hasan is no stranger to facing backlash & heated debates, like when he called the Hogwarts Legacy boycott meaningless:
This article contains affiliate links which are marked with [shopping symbol]. These links can provide a small commission for us under certain conditions. This never affects the products price for you.