Adin Ross announced that he wouldn't feature Kanye West on his stream. Now he opened up about a phone call that happened between him and the rapper.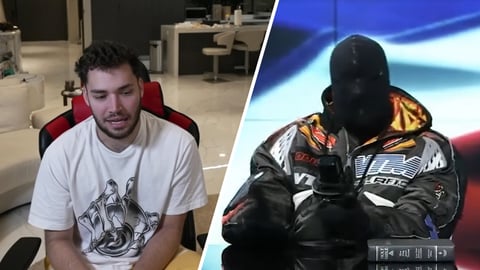 Adin Ross has been featuring controversial people like Andrew Tate on his streams, but apparently he reached his limit. During his stream on December 13, Adin stated that he's no longer going to do a stream with Kanye West.
Adin Ross Shuts Down Plans To Do Stream With Ye
Earlier this month, the 22-year-old Twitch streamer was in the talks to do an interview stream with the popular, and now controversial. rapper Kanye "Ye" West.
The rapper has recently been under a LOT of fire for antisemitic statements, praising Hitler and a lot more. Ye has ultimately been deplatformed from Twitter and lost multiple honorary degrees as well as partnerships. This dude lost more degrees than a university executive with dementia!
Anyway, now that all kinds of social media platforms, brands etc. are cancelling Ye, it looks like Adin doesn't feel too comfortable featuring Kanye on his stream anymore.
Previously, and even recently, Adin did a couple of streams with Andrew Tate, another controversial public figure. But apparently Ye is a bit too hot right now.
The reason for his change of mind, Adin explained, was that he didn't want to have his platform used to spread hate, even though it would probably have been the biggest stream of his career.
I can't have my platform be used to spread hate, can't have my platform be used to basically insult people and hurt people and hurt everyone, so I decided not to go through with this. [...] I'm gonna keep it short, and sweet and simple. You know what I'm saying? Yes I know it would be my biggest stream ever, but sometimes it's not worth it, you know what I mean?
Apparently, fans aren't really buying into his moral decision, claiming he might have some other, less noble motives, for example sponsors pressuring him into not doing it.
Some suggest it might have to do with him being Jewish, that he suddenly doesn't want to platform a person that publicly promotes an antisemitic message and praises Hitler.
In the end, all that matters is that Adin Ross won't provide Ye with a platform to spread his hate, even though he is missing out on a huge amount of viewers.
Adin Ross Opens Up About Explosive Phone Call That Cancelled Ye Stream
After this statement, we didn't hear anything about this topic for a while, until Ross was featured on the "Off The Record" podcast with DJ Akademiks.
During the broadcast, the streamer revealed more context, as to why he didn't want to have Ye on his stream no more.

Apparently, he'd been texting the rapper and said something he didn't really like all that much. Ye then called him, saying, "You Jews aren't going to tell me what I can and can't say".
I guess, this plays into some people suggesting that Ross cancelling the stream had to do with his Jewish origin and Ye's blatant antisemitism.

Ross says, that he hasn't heard of the rapper since, but claims that he wasn't told by Twitch or any other person to cancel the stream with Ye, but did so of his own volition.