Twitch streamer Castro1021 updated his fans, after he captured a crazy car crash on camera during his IRL stream in Qatar.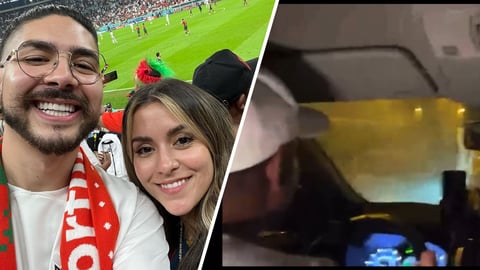 During an IRL broadcast in Qatar, Twitch streamer Edwin "Castro1021" Castro captured a car accident on camera, that left many questions as to what happened.
Streaming IRL can be a little tricky, because you never know what kind of thing could play out in the background. Sometimes you are confronted with a weird fan, and sometimes you are confronted with a car hurling across the road and coming to a halt right in front of you.
This happened to Castro1021, FIFA streamer and soccer fan, who visited Qatar to attend the World Cup.
Castro Responds After Streaming Massive Car Crash
During one of his IRL streams, Castro travelled around Doha with a couple of friends, meeting fans and just having a good time.
Towards the end of the broadcast, they were taking a taxi, when a car to their left crashed and rolled right in front of their car.
It is unclear what caused the accident, but Castro confirmed that nobody got seriously hurt and that the police quickly responded to make sure everyone was okay.
Everyone is okay including the other driver.

We're all grateful for the police on their immediate response and making sure everyone is okay.

I love you guys.

— Castro1021 (@Castro1021) December 8, 2022
If you want to get the most out of your time on Twitch, check out Fanbloc to win awesome prizes